2010: #49 – The Beach House (Jane Green)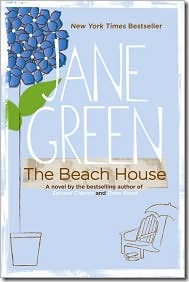 Book #49 was The Beach House by Jane Green.  The back of the book reads:
Nan Powell is a free-spirited, sixty-five-year-old widow who's not above skinny-dipping in her neighbors' pools when they're away and who dearly loves her Nantucket home. But when she discovers that the money she thought would last forever is dwindling, she realizes she must make drastic changes to save her beloved house. So Nan takes out an ad: Rooms to rent for the summer in a beautiful old Nantucket home with water views and direct access to the beach.

Slowly people start moving in to the house, filling it with noise, laughter, and with tears. As the house comes alive again, Nan finds her family and friends expanding. Her son comes home for the summer, and then an unexpected visitor turns all their lives upside down. As she did so masterfully in her New York Times bestseller Second Chance, Jane Green once again proves herself one of the preeminent writers of contemporary women's fiction.
When we first meet Nan Powell, she is wandering naked around her neighbor's back yard and sampling their kitchen garden after a quick skinny dip in their pool.  They're not home, of course.  So, needless to say, Nan is a little eccentric, and she is also well-practiced in the art of denial. She's been ignoring the fact that she's running out of money for as long as she can, and now she has to do something about it.  So she decides to rent out rooms in her much-desired house on Nantucket. What follows is a story of people who are looking for some healing in their lives, and finding it in a peaceful summer on a peaceful island. Unfortunately, I felt that the story fell a little short on emotional punch.  There are some conflicts that could have led to some really interesting places, but the author chose not to take the story in that direction. The "unexpected visitor" story arc fell completely flat. It felt a little like things had to be wrapped up quickly, so there wasn't time to make anything messy.  I still liked the story and enjoyed listening to it, but I think it could have been taken further. 
Other reviews:
S. Krishna's Books: The Beach House – Jane Green
Book Review: The Beach House by Jane Green
Michele – only one 'L': Review: The Beach House by Jane Green
Booking Mama: Review: The Beach House
The Beach House Review << Belle of the Books
Audiobook length: 11 hrs 14 min | Approximate word count: 93,775
2009: Dead Girls Are Easy (Terri Garey)
2008: The Whole Truth (David Baldacci)
2007: Holiday in Death (J.D. Robb)
2006: All That Remains (Patricia Cornwell)
2005: I'll Be Seeing You (Mary Higgins Clark)
Used in these Challenges: Countdown Challenge 2010; 2010 100+ Reading Challenge; 2010 Chick Lit Challenge; Audiobook Challenge; New Author Challenge 2010;