2012: #28 – Dancing in the Dark (Mary Jane Clark)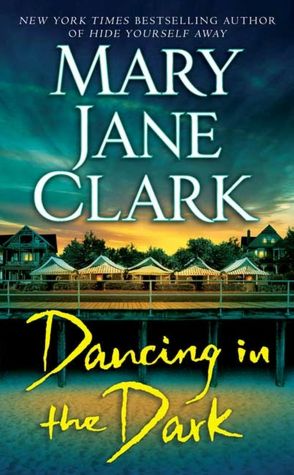 Title: Dancing in the Dark
Author: Mary Jane Clark
Format: Hardback
Pages: 352 (2012 total – 7,209)
Approx. Word Count: 96,800 (2012 total – 2,007,014)
Release Date: July 26, 2005
Publisher: St. Martin's Press
Categories: suspense
Source: personal copy
Rating: 3 out of 5
Back of the book:
Trying to mix business with pleasure, KEY News correspondent Diane Mayfield has brought her children and her sister to the New Jersey Shore town of Ocean Grove to investigate a story on "girls who cry wolf" for the season premiere of "Hourglass," television's highly rated news magazine.

Diane lands an exclusive interview with a troubled young woman whose tale of being abducted and held against her will for three terrifying days had been disbelieved by the authorities. No sooner does Diane finish taping the interview, though, than a second victim disappears.

The small community, already in the grip of a record heat wave, is now wracked by fear and terror–no one knows who could be next. With only the first victim as eyewitness, Diane and the police turn to her for clues. But it may already be too late to save Diane and her loved ones from the mortal danger that lurks in Ocean Grove.
My thoughts:
I wasn't particularly thrilled with this. It wasn't bad, per se, it just didn't excite me. The mystery is well-enough constructed that I was surprised by who the bad guy was, but I never really connected with Diane or her kids. She was always the victim, and I just found nothing about her to be the least bit interesting, not even her jailed husband. Her daughter was even worse — stereotype, through and through.
The part that really rubbed me wrong was the undertone the entire book had about eating disorders. It felt like the author had an agenda to push, and it was really forced. If you want to teach us something about eating disorders, please don't make every teenaged girl in the story have one.
This was the first Mary Jane Clark I've read, and I don't think I'll jump at reading another.
Available from: Amazon | Barnes & Noble | IndieBound | WorldCat
Other reviews:
"This is the third book I have read by Mary Jane Clark and is my favorite of the three." — Confessions of a Book Addict
"I found that this book takes a good look at what a troubled teen will go though to get the attention they need to feel loved and accepted." — My Book Reviews
Past reviews:
2011: Blood Vines (Erica Spindler)
2010: Hit and Run Holiday (Carolyn Keene)
2009: In the Woods (Tana French)
2008: Midnight Bayou (Nora Roberts)
2007: The Black Echo (Michael Connelly)
2006: Purity in Death (J.D. Robb)
2005: Wicked (Gregory Maguire)