2010: #57 – Possessed (Kate Cann)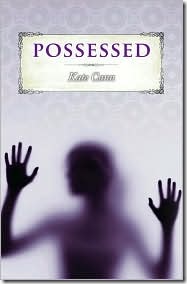 Book #57 was Possessed by Kate Cann.  The back of the book reads:
Rayne can't wait to start her summer job at a remote country mansion, far from the crowded, noisy London she so desperately wants to escape. But the retreat soon turns into a nightmare — the mansion is creepy, the legends of ghosts keep Rayne up at night, and she doesn't feel safe anywhere.

Can Rayne figure out why she's so freaked — before she becomes a ghost story herself?
This was a pretty good little ghost story.  Rayne is the typical teenager in many ways, feeling smothered by both her dependent mother and her boyfriend.  So, like many teens, her solutions is ultimately to run away.  To facilitate this she finds a job in a tearoom at Morton's Keep, a mysterious English countryside manor with a long, dark history.  I would have actually liked to have learned more about the history of the Keep, and could have used more details such as who the Black Prince was.  Not all of us are up to speed on English history, so thank goodness for Wikipedia! Things are spooky and mysterious, especially with Rayne's new boyfriend, St. John, and his group of obedient friends.  I actually could have used a little more ghostly activity, since a lot of what happens is more along the lines of "things don't feel right" than something tangible. All in all, though, I found Rayne to be believable and accessible, and this to be an entertaining read.
This book is a review copy.
Other reviews:
Review: Possessed by Kate Cann | Dark Faerie Tales
He Followed Me Home . . . . . . . . . . . . . . . . Can I Keep Him
Shooting Stars Mag: Possessed by Kate Cann
S. Krishna's Books: Possessed – Kate Cann
Page count: 336 | Approximate word count: 50,400
2009: Reunion (Therese Fowler)
2008: Fearless Fourteen (Janet Evanovich)
2007: Windmills of the Gods (Sidney Sheldon)
2006: The Weatherman (Steve Thayer)
2005: To the Nines (Janet Evanovich)
Used in these Challenges: Countdown Challenge 2010; ARC Reading Challenge 2010; 2010 100+ Reading Challenge; 2010 Pub Challenge; 2010 Young Adult Reading Challenge; New Author Challenge; Pages Read Challenge Season 2;