2010: #59 – Cleanskin (Val McDermid)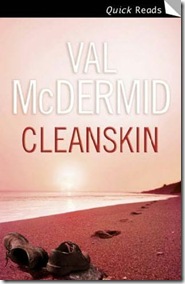 Book #59 was Cleanskin by Val McDermid.  The back of the book reads:
When career criminal Jack Farlowe's body is found washed-up on a Suffolk shore, it looks to the police like a clear-cut case. Broken-hearted at his daughter's death, he has drowned himself – good riddance and one less crime to solve, according to CID.Then again, maybe not. For, one by one, Farlowe's enemies are being killed. And the horrific manner of their deaths makes drowning look like a day at the beach.
Though this was my first time reading Val McDermid, I was already a fan.  Her books are the basis of a great British crime drama, Wire in the Blood, and as soon as I discovered that all of her books found a spot on my wishlist. This was just a novella, but I think it's a good taste of what McDermid can do. The story opens at the scene of the brutal murder of Katie Farrell, who has been burned to death in her own bedroom.  Katie is the daughter of Jack Farrell, an organized crime boss that DCI Andy Martin refers to as a "cleanskin", meaning he has no criminal record. The story follows Andy as he tries to figure out who would dare to kill Jack Farrell's daughter. I found the writing to be tight and the suspense level appropriate.  Though there were some plot twists that weren't exactly unexpected, the final outcome was not something I would have guessed.  I can't wait to read something more fleshed out and developed from McDermid.
Page count: 128 | Approximate word count: 25,600
2009: The Secret Life of Prince Charming (Deb Caletti)
2008: Driving Force (Dick Francis)
2007: Strange Candy (Laurell K. Hamilton)
2006: The Forgotten (Faye Kellerman)
2005: Eleven on Top (Janet Evanovich)
Used in these Challenges: 2010 100+ Reading Challenge; New Author Challenge; Pages Read Challenge Season 2;