#76 – Likely to Die (Linda Fairstein)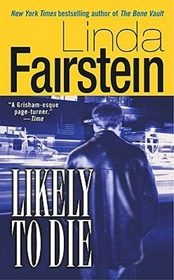 Book #76 was Likely to Die, the second book in Linda Fairstein's Alexandra Cooper series. The back of the book reads:
A neurosurgeon is sexually assaulted, stabbed and left for dead in her office at the labyrinthine Mid-Manhattan Medical Centre. The police designate her Likely to Die. Alexandra Cooper, head of the district's sex crimes unit, assembles a task force to investigate but finds herself hindered at every turn. Not only has her office prosecuted some of the vast hospital's patients and staff before but the building itself compounds the problem. A vast complex encompassing a medical college and the Stuyvesant Psychiatric Centre, the hospital rises over a network of tunnels now occupied by numberless transients who have easy access to the corridors. Strung out with other cases and mired in the investigation personally when even the man she has begun to date, has a connection to the case, Alex must find the killer – before the killer finds her…..
Maybe it was because it's been almost 5 years since I read a book in this series, but I was not impressed. If this book had been edited to eliminate everything that had nothing to do with the plot, it could have been half its size. Fairstein gets way too long-winded about the intricacies of sexual crimes and the prosecuting of them, including a section about how grand juries work, and at some point you have to trust your audience to either be familiar with the elements of crime fiction or to look up what they don't understand. There are OODLES of crime books that don't go into this level of detail.
Beyond that, there just wasn't anything particularly interesting about the mystery, except maybe the sorry state of New York hospitals. We're never given a chance to connect and sympathize with the victim, because she was basically portrayed as a bitch at every turn. All in all, it was rather boring. I do enjoy the character of Mike Chapman, and sometimes I'd rather the novel followed him around than Alex. That's a big fail.
I'm sure I'll read more in this series because I've already read some of the later books and enjoyed them more. Fairstein worked out some of her kinks. But I'm sure glad I'm done with the early books.
Other reviews:
THE MYSTERY READER reviews: Likely to Die by Linda Fairstein
nomadreader: book review: likely to die by linda fairstein (reread)
Page count: 448 ('11 total: 21,007) | Word count:  112,431 ('11 total: 7,511,323)
2010: Snow Flower and the Secret Fan (Lisa See)
2009: On Writing (Stephen King)
2008: The Dead Room (Heather Graham)
2007: Body Rides (Richard Laymon)
2006: Dragonfly in Amber (Diana Gabaldon)
2005: We Need To Talk About Kevin (Lionel Shriver)