2010: #64 – Dead in the Family (Charlaine Harris)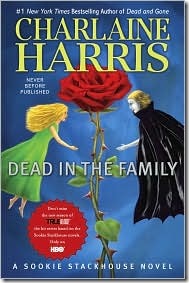 Book #64 was Dead in the Family, the 10th book in Charlaine Harris's Sookie Stackhouse series.  The back of the book reads:
After enduring torture and the loss of loved ones during the brief but deadly Faery War, Sookie Stackhouse is hurt and she's angry. Just about the only bright spot in her life is the love she thinks she feels for vampire Eric Northman. But he's under scrutiny by the new Vampire King because of their relationship. And as the political implications of the Shifters coming out are beginning to be felt, Sookie's connection to the Shreveport pack draws her into the debate. Worst of all, though the door to Faery has been closed, there are still some Fae on the human side-and one of them is angry at Sookie. Very, very angry…
And with this book, I am officially caught up with the series! Unfortunately, this one wasn't that great.  There was no overall story or theme here, just a bunch of smaller problems that have to be solved all at once. Sookie is starting to lose some of her depth, and is almost becoming a parody of herself.  I'm hoping that the next book is a little more thoughtfully written.
Other reviews:
Dead in the Family by C. Harris | Literary Escapism
All About {n}: Dead in the Family by Charlaine Harris
Writings Of A Wicked Book Addict – Dead In The Family
Charlaine Harris – Dead in the Family « Fyrefly's Book Blog
Review: Dead in the Family « Stiletto Storytime
Page count: 320 | Approximate word count: 87,939
2009: High Noon (Nora Roberts)
2008: A Living Nightmare (Darren Shan)
2007: The End (Lemony Snicket)
2006: Narcissus in Chains (Laurell K. Hamilton)
2005: Nora, Nora (Anne Rivers Siddons)
Used in these Challenges: Countdown Challenge 2010; 2010 100+ Reading Challenge; 2010 Pub Challenge; E-book Reading Challenge; Finish That Series Challenge; Pages Read Challenge Season 2;