2010: Sunday Salon – June in Review (and Happy 4th!)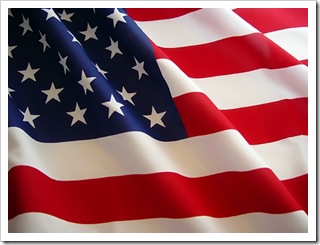 June in general wasn't a bad reading month for me, but the last couple of weeks have been a bit of a drag.  I finally finished R.J. Ellory's The Anniversary Man, which was good (full review coming soon), but in a different way than A Quiet Belief in Angels. I thought Angels was lyrical and beautiful, but Anniversary Man had more of a police procedural feel to it.
I also finished Christopher Pike's The Secret of Ka, but only because it was a galley.  My initial foray into the NetGalley service, to be exact.  I've read every YA novel Pike wrote between 1985 and 2000, and at least a couple of his adult novels, and he was easily my favorite author when I was a teen.  I found myself overwhelmingly disappointed in Ka. Truthfully, I don't think it was the story as much as I think it's mis-categorized.  It's marketed as a YA novel, but it *really* felt middle grade to me.  And if I had known that, I wouldn't have requested it. Anyhoo, I'll save my elaboration for my review (not posted until September). 
As far as NetGalley is concerned, it was easy enough to get the book onto my Kindle (the only reason I signed up), but the formatting for the Kindle book was pitiful.  Whoever is responsible for the formatting of the Kindle-compatible book (I don't know if it's NetGalley or the publisher) should be ashamed of themselves.  If you read the book online though the web site, it looked great, but on my Kindle the chapter breaks were messed up and the capitalization was erratic and almost 100% wrong.  I'm not sure there was one sentence that had a capital letter at the beginning of it. It's really not very difficult to convert a pdf to something that's readable on the Kindle, so there's no excuse.
And, to top off that dissatisfaction, I abandoned Sarah Graves' The Dead Cat Bounce about 1/3 of the way through. I really wanted to like this series, with its setting in downeast Maine, but it just didn't grab me.  I blame the financial motive for the murder. Those schemes just don't excite me.  Regardless, I thought the book had a really great first two paragraphs:
My house is old, and rambling, and in some disrepair, and I think that it is faintly haunted: a cold spot forming inexplicably on the stairway, a scuttling in the hall.  Then of course there is the matter of the enigmatic portrait, whose mystery I had not yet managed to resolve on that bright April morning when, after living cheerfully and peacefully in the house for over a year, I found a body in the storeroom.

Coming upon a body is an experience, like childbirth or a head-on collision, that takes the breath out of a person.  I went back through the passageway between the kitchen and the small, unheated room where in spring I kept dog food and dahlia bulbs, and where apparently I now stored corpses.
But alas, this series and I weren't meant to be.
I'm currently down to only 2 books on the go: The Black Ice by Michael Connelly on my Kindle and Smoke Screen by Sandra Brown on audio. As far as the rest of the June, here's what I reviewed:
I hope you're enjoying your (holiday, if you're in the U.S.) weekend! We are in Nashville, and will be heading downtown for the fireworks this evening. I have family in town, so it's been a weekend full of fun, card games, and corn hole.
I'm thinking about starting a weekly giveaway to weed out some of the ARCs I don't want (or need) to keep. So stay tuned!