2010: #65 – See Jane Write (Sarah Mlynowski & Farrin Jacobs)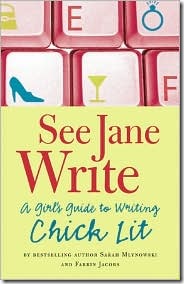 Book #65 was See Jane Write: a Girl's Guide to Writing Chick Lit by Sarah Mlynowski & Farrin Jacobs.  The back of the book reads:
With chick lit novels popping up on every bestseller list, millions of readers are all thinking the same thing: I could write this stuff and never go back to the office again! And here's the guide that will show you how. Bestselling novelist Sarah Mlynowski and veteran chick lit editor Farrin Jacobs cover every stage of developing and selling your novel, with chapters on:

Developing an idea
Deciding on a point of view
Making your characters likable
Learning the basics of plotting, pacing, and conflict
Finding an agent

This book also features humorous tips and advice from scores of established writers (including Meg Cabot, Melissa Senate, and Sophie Kinsella). If you've got stories to tell, See Jane Write will take care of the rest!
I picked this up because my current work-in-progress is ending up to be somewhere between chick lit and a cozy mystery.  Cozy chick lit? I thought this was a fun and informative read, especially since I don't read a ton of chick lit. When it comes to the actual mechanics of writing, there's not much here that you won't get in any other guide, but the tone makes it a super fast read. I especially appreciated the section on clichés, because I was in danger of falling face-first into one. I also liked the "it happened to me" vignettes provided by the authors, and the use of actual examples from published novels. This is definitely a book that will remain on my writing shelf.
Other reviews:
Writing the Chick Lit Novel « The Dark Phantom Review
Page count: 191 | Word count: 40,964
2009: Kitty and the Midnight Hour (Carrie Vaughn)
2008: The Secret History of the Pink Carnation (Lauren Willig)
2007: Blood Sport (Dick Francis)
2006: Danse Macabre (Laurell K. Hamilton)
2005: Silent Partner (Jonathan Kellerman)
Used in these Challenges: The Four Month Challenge – Part 4; 2010 100+ Reading Challenge; 2010 Reading From My Shelves Project; Pages Read Challenge Season 2;