2010: #75 – Heat Lightning (John Sandford)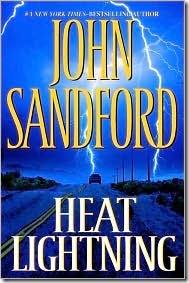 Book #75 was Heat Lightning, the 2nd book in John Sandford's Virgil Flowers series.  The back of the book reads:
John Sandford's introduction of Minnesota Bureau of Criminal Apprehension investigator Virgil Flowers was an immediate critical and popular success: "laser-sharp characters and a plot that's fast and surprising" (Cleveland Plain Dealer); "an idiosyncratic, thoroughly ingratiating hero" (Booklist). Flowers is only in his late thirties, but he's been around the block a few times, and he doesn't think much can surprise him anymore. He's wrong.

It's a hot, humid summer night in Minnesota, and Flowers is in bed with one of his ex-wives (the second one, if you're keeping count), when the phone rings. It's Lucas Davenport. There's a body in Stillwater—two shots to the head, found near a veteran's memorial. And the victim has a lemon in his mouth.

Exactly like the body they found last week.

The more Flowers works the murders, the more convinced he is that someone's keeping a list, and that the list could have a lot more names on it. If he could only find out what connects them all . . . and then he does, and he's almost sorry he did.

Because if it's true, then this whole thing leads down a lot more trails than he thought—and every one of them is booby-trapped.

Filled with the audacious plotting, rich characters, and brilliant suspense that have always made his books "compulsively readable" (Los Angeles Times), this is vintage Sandford.
I am a fan of Virgil Flowers, maybe even more than I am a fan of Lucas Davenport.  Davenport can come off as a bit uptight and serious, while Flowers has more of a laissez-faire style, and a good deal of recklessness. When we join him in this story, he is investigating a series of murders where the victims are left at Veterans' memorials with lemons in their mouths. Soon, a connection to the Vietnam War emerges, and Flowers travels the state of Minnesota chasing down leads.  Along the way, we see his trademark affinity for troubled women, and he finds himself fooled on more than one occasion.  And that's why we love Virgil… He's not perfect. The state of Minnesota is also the perfect backdrop for this outdoorsman, and I feel like I know the state after seeing it through his eyes.
Other reviews:
Heat Lightning – A Book Review « Nishita's Rants and Raves
Page count: 400 | Approximate word count: 120,000
2009: Courting Catherine (Nora Roberts)
2008: A Paragon of Virtue (Christian von Ditfurth)
2007: The Life and Times of the Thunderbolt Kid (Bill Bryson)
2006: Cruel and Unusual (Patricia Cornwell)
2005: Under the Banner of Heaven (Jon Krakauer)
Used in these Challenges: Countdown Challenge 2010; 2010 100+ Reading Challenge; Second Reading Challenge; E-book Reading Challenge; Pages Read Challenge Season 2; Thriller & Suspense Reading Challenge 2010;