2010: #76 – Snow Flower and the Secret Fan (Lisa See)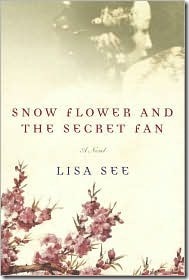 Book #76 was Snow Flower and the Secret Fan by Lisa See.  The back of the book reads:
In nineteenth-century China, in a remote Hunan county, a girl named Lily, at the tender age of seven, is paired with a laotong, an "old same," in an emotional match that will last a lifetime. The laotong, Snow Flower, introduces herself by sending Lily a silk fan on which she's written a poem in nu shu, a unique language that Chinese women created in order to communicate in secret, away from the influence of men. As the years pass, Lily and Snow Flower send messages on the fan and compose stories on handkerchiefs, reaching out of isolation to share their hopes, dreams, and accomplishments. Together they endure the agony of footbinding and reflect upon their arranged marriages, their loneliness, and the joys and tragedies of motherhood. The two find solace in their friendship, developing a bond that keeps their spirits alive. But when a misunderstanding arises, their relationship suddenly threatens to tear apart.

Snow Flower and the Secret Fan is a captivating journey back to an era of Chinese history that is as deeply moving as it is sorrowful. Now in a deluxe paperback edition complete with an expanded Random House Reader's Circle guide and an exclusive conversation between Lisa See and her mother, fellow writer Carolyn See, this lyrical and emotionally charged novel is, as the Seattle Times says, "a beautifully drawn portrait of female friendship and power."
This is the sort of historical fiction I love.  It takes me to a time, place, and culture I am only passingly familiar with, and makes me want to learn more.  I found myself running to Wikipedia on more than one occasion, especially to better understand foot-binding. Some may get caught up in the accuracy of the historical fact, but to me this book was about much more.  It's about friendship; mothers and daughters; class-based, feudal society; the role of women, not only in their family but in society in general; betrayal; husbands and wives; love; and misunderstanding. Because we see things through Lily's eyes, we often don't understand what's going on any sooner than she does. As readers, we are tied so closely to her discoveries that we feel her astonishment, happiness, sadness, and pain. I also found the book to be well-written.  Oftentimes an author can adopt the speaking and writing style of their characters to the detriment of the reader, but the prose here is gentle and engaging. This sparked several interesting discussions in my book club, and I recommend it for yours. I'll definitely read another book by Lisa See.
Other reviews:
A Novel Menagerie » Blog Archive » Book Review: Snow Flower & The Secret Fan
Snow Flower and the Secret Fan « Bloody Hell, It's a Book Barrage!
Tiny Little Reading Room: Review: Snow Flower and the Secret Fan
Book Nut: Snow Flower and the Secret Fan
#18 ~ Snow Flower and the Secret Fan : literatehousewife.com
Page count: 288 | Approximate word count: 100,800
2009: On Writing (Stephen King)
2008: The Dead Room (Heather Graham)
2007: Body Rides (Richard Laymon)
2006: Dragonfly in Amber (Diana Gabaldon)
2005: We Need To Talk About Kevin (Lionel Shriver)
Used in these Challenges: The Four Month Challenge – Part 4; 2010 100+ Reading Challenge; 2010 Reading From My Shelves Project; Historical Fiction Reading Challenge; New Author Challenge 2010; Pages Read Challenge Season 2;