2010: #79 – Banker (Dick Francis)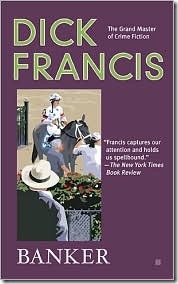 Book #79 was Banker by Dick Francis.  The back of the book reads:
When young investment banker Tim Ekaterin becomes involved in the cutthroat world of thoroughbred racing, he finds his life in business blown to smithereens. For suddenly the multimillion-dollar loan he arranges to finance the purchase of a champion racehorse is threatened by an apparent defect in the animal. Then, as Tim desperately searches for answers, he falls headlong into a deadly deal of violence and murder.
In Banker, Dick Francis is able to take two things I know very little about — merchant banking and thoroughbred breeding — and twist them together in such a way that I can't put the book down.  I always find reading Francis to be effortless.  He pulls me in from the start with an unusual situation. Young banker Tim Ekaterin finds his boss standing in the fountain in front of the bank with his clothes on. This situation is what leads to Tim being responsible for deciding whether or not the finance the purchase of Sandcastle, a star racehorse.  He becomes quite close to Sandcastle's owner and his young daughter after birth defects begin to appear in the horse's progeny — they all have too much to lose. Francis tends to set his main characters up in almost-but-not-quite inappropriate relationships with young (17, in this case) girls, which is a little weird, but things never cross the line. Regardless, I know when I pick up a Dick Francis book that I'm going to be sucked in until the last page.
Page count: 352 | Approximate word count: 105,600
2009: Ms. Taken Identity (Dan Begley)
2008: Dance with the Devil (Sherrilyn Kenyon)
2007: Harry Potter and the Deathly Hallows (J.K. Rowling)
2006: The Mermaid Chair (Sue Monk Kidd)
Used in these Challenges: 2010 100+ Reading Challenge; 2010 Reading From My Shelves Project; Pages Read Challenge Season 2;