2010: #84 – The Clinic (Jonathan Kellerman)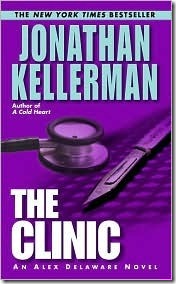 Book #84 was The Clinic, the 11th book in Jonathan Kellerman's Alex Delaware series.  The back of the book reads:
Upon his return to Los Angeles from a harrowing adventure in the South Pacific, Alex is called upon by his friend Milo Sturgis to help solve the murder of a celebrity author.

For three months the police found no clues to the murder of Hope Devane, psychology professor and controversial author of a pop-psych bestseller about men. She was found stabbed to death on a quiet, shaded street in one of L.A.'s best neighborhoods. The evidence suggested not random slaughter, but cold, calculated stalking. And the list of potential suspects was as extensive as the audience for her book and her talk show appearances.

Newly assigned to the cold case, homicide detective Milo Sturgis calls on his friend, Dr. Alex Delaware to seek out insights into the victim's high-profile life. What Alex uncovers is a series of troubling inconsistencies about Hope, including her contradictory personas: the sensational, anti-male bestselling author versus the low-key scholarly university professor.

But it is when Alex delves into Hope's childhood that he begins to understand the forces that made her the formidable woman she was–and the ties that entangled her life until the horrifying act of betrayal that ended it.
I have a real soft spot for this series; it was one of the first suspense series I ever started.  I've been reading books in this series for almost 20 years, and in nowhere near the intended order.  And that's the nice thing about it — I may not know what house Delaware is living in or what the status of his relationship with Robin is when I start the book, but each stands alone so well that it doesn't matter. In The Clinic, Kellerman gives us yet another solid mystery, with a touch of questionable moralities and more than a little psychology. When you start an Alex Delaware novel, rarely do you know where it's going to end up. If you're a suspense fan and you haven't started this series, what are you waiting for?
Page count: 496 | Approximate word count: 124,000
2009: The Girl With the White Flag (Tomiko Higa)
2008: From the Mixed-Up Files of Mrs. Basil E. Frankweiler (E.L. Konigsburg)
2007: In This Mountain (Jan Karon)
2006: N is for Noose (Sue Grafton)
Used in these Challenges: 2010 100+ Reading Challenge; 2010 Reading From My Shelves Project; Pages Read Challenge Season 2; Thriller & Suspense Reading Challenge 2010;