2008: #83 – The Curious Incident of the Dog in the Night-Time (Mark Haddon)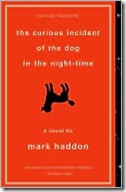 Book #83 was The Curious Incident of the Dog in the Night-Time by Mark Haddon. The back of the book reads:
Christopher John Francis Boone knows all the countries of the world and their capitals and every prime number up to 7,057. He relates well to animals but has no understanding of human emotions. He cannot stand to be touched. And he detests the color yellow.

This improbable story of Christopher's quest to investigate the suspicious death of a neighborhood dog makes for one of the most captivating, unusual, and widely heralded novels in recent years.
I often worry that these books with a lot of buzz won't live up to the hype by the time I get around to reading them. In this case, I shouldn't have worried. From his prime-numbered chapters to his reasons why he doesn't like the colors yellow and brown, Haddon's autistic narrator is full of his own charm, even if he couldn't tell you what charm was. You can't help but feel for this boy who wants to find out who killed his neighbor's dog, thinks his mother is dead, and lacks the filter we take for granted to see and hear only that which is important to us. From time to time you may get bogged down in Christopher's factual digressions and descriptions, but it's not long before you're caught back up in his story.
Page count: 226 | Approximate word count: 71,060
2007: The Legacy (Steven Frey)
2006: The Eighth Commandment (Lawrence Sanders)