2010: #99 – How to Write Killer Fiction (Carolyn Wheat)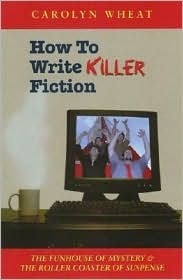 Book #99 was How to Write Killer Fiction: The Funhouse of Mystery & the Roller Coaster of Suspense by Carolyn Wheat.  The back of the book reads:
Writing is all about creating an experience for the reader. Whether you're giving them a brain-teasing puzzle or an adrenaline-soaked emotional roller coaster-ride, this book helps you shape your fiction to create maximum enjoyment for your readers. Now you can learn the craft directly from one of the most respected contemporary writers in the field, Carolyn What, winner of multitudinous awards and nominations. What knows what editors want, and shows you how to achieve your writing an publishing goals. How To Write Killer Fiction is a handbook that no writer of mystery or suspense can afford to be without.
I didn't exactly read this cover to cover, but it gave me a lot to think about when it comes to mystery and suspense and the differences between them.  It contained some of the best explanation and examples of different genres that I've seen.  I'm always on the lookout for some sort of definitive list of genres to use as categories on my blog, and this gave me a good place to start. (By the way, if anyone has a list of genres that *they* use, please share!)  It also helped me narrow down what exactly I'm trying to write.  This was a good Kindle purchase, and I'm sure I will use it as a reference in years to come.
Page count: 191 | Approximate word count: 47,750
2009: The Girl Who Played With Fire (Stieg Larsson)
2008: Like Glass (Matthew Cory)
2007: Night Embrace (Sherrilyn Kenyon)
2006: The English Assassin (Daniel Silva)
Used in these Challenges: 2010 100+ Reading Challenge; Pages Read Challenge Season 2; Countdown Challenge 2011;