2011: #24 – The Devil in the White City (Erik Larson)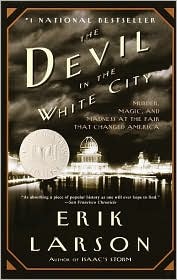 Book #24 was The Devil in the White City: Murder, Magic, and Madness at the Fair that Changed America by Erik Larson. The back of the book reads:
Bringing Chicago circa 1893 to vivid life, Erik Larson's spellbinding bestseller intertwines the true tale of two men–the brilliant architect behind the legendary 1893 World's Fair, striving to secure America's place in the world; and the cunning serial killer who used the fair to lure his victims to their death. Combining meticulous research with nail-biting storytelling, Erik Larson has crafted a narrative with all the wonder of newly discovered history and the thrills of the best fiction.
What first interested me in this book was H.H. Holmes. I'm a sucker for a serial killer, and what's more interesting than the man who was one of America's first? Holmes was an extremely smart and clever man, able to pull off con after con for years to not only acquire victims, but money and property. He built his own house of horrors under the nose of other people who not only worked in the building, but lived there. By the time the authorities caught up with him, mostly by luck, he had killed 27 people that they knew about. The real number could be hundreds.
But Holmes isn't the real star of this book, and that was the biggest surprise. I ended up being much more enthralled by the story of the World's Fair than in Holmes story. The book follows the fair from it's earliest planning stages to the bitter end. It's really amazing the things that became popular because of this fair. It was a big reason why Tesla's A.C. won out over Edison's D.C.. The Ferris Wheel was invented. The largest buildings of the time were built. It's when the term "midway" was coined. Food products like Cracker Jack, Juicy Fruit, and Shredded Wheat were introduced. And there was so much more; it really was an amazing event for the country.
Unfortunately, because the book is straight non-fiction, rather than creative non-fiction, it can get a little dry in places. There's really only so many times you need to tell me that the landscape designer (who, by the way, also designed Central Park and the grounds of the Biltmore), was extremely particular. Beyond that, I found it to be a very interesting piece of history.
Other reviews:
Review: The Devil in the White City « The Literary Omnivore
Erik Larson – The Devil in the White City « Fyrefly's Book Blog
fashion_piranha: Review: The Devil in the White City by Erik Larson
So Many BooksSo Little Time: The Devil in the White City by Erik Larson
Bending Bookshelf: Erik Larson – The Devil in the White City
Page count: 447 ('11 total: 6,409) | Approximate word count: 111,750 ('11 total: 2,283,602)
2010: Shakespeare's Landlord (Charlaine Harris)
2009: The Beautiful Things That Heaven Bears (Dinaw Mengestu)
2008: The Death of Vishnu (Manil Suri)
2007: Mistral's Kiss (Laurell K. Hamilton)
2006: Micah (Laurell K. Hamilton)
2005: The Vile Village (Lemony Snicket)
Used in these Challenges: Countdown Challenge 2011; 2011 TBR Pile Challenge; New Author Challenge 2011; Outdo Yourself Reading Challenge 2011; Four Month Challenge – Part 6