2010: Challenges – Four Month Challenge Part 5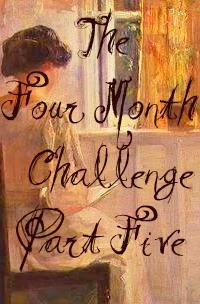 Ask, and ye shall receive!  Part 5 of the Four Month Challenge (hosted by Book Drunkard) starts on December 1.  Hopefully I can do better this time. Here are the categories for this go-round:
last updated: 3/31/11
FIVE POINT CHALLENGES:
Read a book by your favourite author – Black Magic Sanction (Kim Harrison)
Read a YA book
Read a book written in 2010 – Lake Magic (Kimberly Fisk)
Read a book with a colour/color in the title – Vows, Vendettas & a Little Black Dress (Kyra Davis)
Read a book set in any country other than your own – Bolt (Dick Francis)
TEN POINT CHALLENGES:
Read a book with any 'family' name in it.  Eg: Father, daughter, uncle, etc.
Read a book you've read before
Read a fantasy book
Read a book a book you've been meaning to read for ages – Gone, Baby, Gone (Dennis Lehane)
Read a book set in the same country you live in – Don't Look Down (Jennifer Crusie & Bob Mayer)
FIFTEEN POINT CHALLENGES:
Read a book written before you were born
Read a book suggested by a blog – The Help by Kathryn Stockett
Read a book set in a country/place you'd like to visit – Tapestry of Love (Rosy Thornton)
Read a book about a person who is still alive (Memoir, bio, auto-bio, etc)
Read a book that is the first in a series – The Strain (Guillermo del Toro & Chuck Hogan)
TWENTY POINT CHALLENGES
Read a book about a person who is passed (Memoir, bio, auto-bio, etc)
Read a classic you've never read before – The Sound and the Fury (William Faulkner)
Read a book you need to read for another challenge – Abandon (Carla Neggers)
Read a book of short stories – Love in Infant Monkeys (Lydia Millet)
Read a book with a food in the title – Bloody Mary (J.A. Konrath)
Points Earned: 165 / 250