2010: #94 – The Tapestry of Love (Rosy Thornton)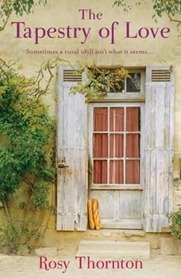 Book #94 was The Tapestry of Love by Rosy Thornton.  The back of the book reads:
A rural idyll: that's what Catherine is seeking when she sells her house in England and moves to a tiny hamlet in the Cévennes mountains. With her divorce in the past and her children grown, she is free to make a new start, and her dream is to set up in business as a seamstress. But this is a harsh and lonely place when you're no longer just here on holiday. There is French bureaucracy to contend with, not to mention the mountain weather, and the reserve of her neighbors, including the intriguing Patrick Castagnol. And that's before the arrival of Catherine's sister, Bryony.
I thought this was a really nice story.  Catherine is an older woman embarking on an adventure.  She picks up her life and moves it from England to a rural part of France, a national park, where the roads are narrow, the mountains are high, the houses are few and far between, and the sheep are plentiful. She makes an interesting character — bold in some ways, timid in others, and oftentimes too stubborn for her own good.  Especially where her neighbor, the friendly but private Patrick Castagnol, is concerned. Catherine also likes to put her head in the sand from time to time, and we all know that never leads to good things.
I really enjoyed Catherine's supporting cast, especially her other neighbors, Monsieur and Madame Bouschet. They really made the novel come alive for me, because they're the type of neighbors we all wish we had.
Overall, this was a great read, with a believable storyline and an ending that is happy without being overdone. Between the people and the scenery, there's a lot to love.
In the interest of disclosure, I'd like to mention that I'm lucky enough to be a member of an online writing community with Rosy Thornton, and she's just as lovely a person as she is an author.
This book was a review copy.
Other reviews:
Review: The Tapestry of Love, Rosy Thornton « Jenny's Books
BooksPlease » Blog Archive » The Tapestry of Love by Rosy Thornton
Review of "Tapestry of Love" by Rosy Thornton « Rhapsody in Books
Book Gazing: 'The Tapestry of Love' – Rosy Thornton
Scribbles: Book Review: The Tapestry of Love by Rosy Thornton
Page count: 352 | Approximate word count: 105,600
2009: Good in Bed (Jennifer Weiner)
2008: Living with the Truth (Jim Murdoch)
2007: Northern Lights (Nora Roberts)
2006: A Child Called "It" (Dave Pelzer)
Used in these Challenges: ARC Reading Challenge 2010; 2010 100+ Reading Challenge; Pages Read Challenge Season 2; Four Month Challenge – Part 5; Countdown Challenge 2011;