2010: #2 – Shogun (James Clavell)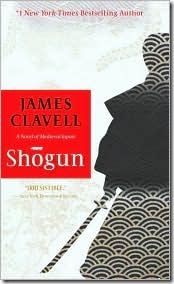 Book #2 was Shogun, the first book in James Clavell's Asian Saga series.  The back of the book reads:
A bold English adventurer. An invincible Japanese warlord. A beautiful woman torn between two ways of life, two ways of love. All brought together in a mighty saga of a time and place aflame with conflict, passion, ambition, lust and the struggle for power.
If you've never read this, I highly recommend it.  It's definitely a major time-investment (it took me over 3 weeks to read), but well worth it.  Clavell has created an intricate portrait of early 17th century Japan, from the perspective of both insiders and outsiders. And you learn almost immediately that the man could certainly write an action scene.  I know very little about ships, but I could picture this perfectly:
He exerted all his strength as the rudder bit into the torrent.  The whole ship shuddered.  Then the prow began to swing with increasing velocity as the wind bore down and soon they were broadside to the sea and the wind. The storm tops'ls bellied and gamely tried to carry the weight of the ship and all the ropes took the strain, howling.  The following sea towered above them and they were making way, parallel to the reef, when he saw the great wave.  He shouted a warning at the men who were coming from the fo'c'sle, and hung on for his life.
For me, the real meat of the story isn't all of the Japanese political intrigue (you almost need a flowchart to keep track of who is backstabbing who), or even the (somewhat predictable) love story between Blackthorne and Mariko, but Blackthorne's transformation.  In the beginning, he is an Englishman, through and through, but by the end of the story even his personal thoughts are more Japanese than English. Believe it or not, I actually wish the story had gone on a bit longer… I wanted to know Blackthorne's story to its conclusion.  Will he ever be completely happy in his new home?  Will he find love?  Does he survive Toranaga's war?  So many questions!
Page count: 1210 | Word count: 428,978
2009: Skin Tight (Carl Hiaasen)
2008: The Indictment (Barry Reed)
2007: True Colors (Doris Mortman)
2006: Cyclops (Clive Cussler)
2005: Naked in Death (J.D. Robb)
Used in these Challenges: Random Reading Challenge; 2010 100+ Reading Challenge; Reading From My Shelves Project; 1st in a Series Challenge; Historical Fiction Reading Challenge; New Author Challenge 2010; Pages Read Challenge Season 2; TwentyTen Challenge; What's in a Name 3 Challenge; Year of the Historical;