2010: Friday Finds – Spring New Releases (Part II)
Here is Part II of my Spring Friday Finds! (see here for Part I)
March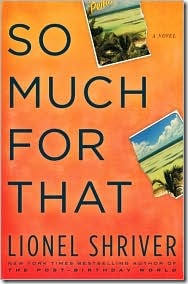 So Much For That by Lionel Shriver
Shep Knacker has long saved for "The Afterlife": an idyllic retirement on a tropical island in the Third World where his nest egg can last forever. Traffic jams on the Brooklyn-Queens Expressway will be replaced with "talking, thinking, seeing, and being"—and enough sleep. When he sold his home repair business for a cool $1 million, his dream finally seemed within reach. Yet Glynis, his wife of twenty-six years, has concocted endless excuses why it's never the right time to go. Sick of working as a peon for the company he founded, Shep announces that he's leaving for what they've always tagged "The Afterlife," with or without her.
Just returned from a doctor's appointment, Glynis has some news of her own: Shep can't go anywhere because she desperately needs his health insurance. It rapidly becomes clear that this "health insurance company from hell" only partially covers the staggering bills for her treatments, and Shep's nest egg for The Afterlife soon cracks under the strain.
So Much for That follows the profound transformation of a marriage, for which grave illness proves an unexpected opportunity for tenderness, renewed intimacy, and dry humor, while also pressing the question: How much is one life worth?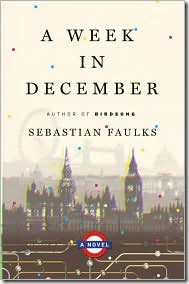 A Week in December by Sebastian Faulks
London: the week before Christmas, 2007. Over seven days we follow the lives of seven major characters: a hedge fund manager trying to bring off the biggest trade of his career; a professional footballer recently arrived from Poland; a young lawyer with little work and too much time to speculate; a student who has been led astray by Islamist theory; a hack book reviewer; a schoolboy hooked on reality TV and genetically altered pot; and a Tube train driver whose Circle Line train joins these and countless other lives together in a daily loop.
With daring skill and savage humor, A Week in December explores the complex patterns and crossings of modern urban life; as the novel moves to its gripping climax, its characters are forced, one by one, to confront the true nature of the world they—and we all—inhabit.
A young woman is murdered in her Oslo flat. One finger has been severed from her left hand, and behind her eyelid is secreted a tiny red diamond in the shape of a five-pointed star — a pentagram, the devil's star.
Detective Harry Hole is assigned to the case with his long-time adversary Tom Waaler and initially wants no part in it. But Harry is already on notice to quit the force and is left with little alternative but to drag himself out of his alcoholic stupor and get to work.
A wave of similar murders is on the horizon. An emerging pattern suggests that Oslo has a serial killer on its hands, and the five-pointed devil's star is key to solving the riddle.
The Sheen on the Silk by Anne Perry
New York Times bestselling novelist Anne Perry, the undisputed Queen of Victorian mysteries and the author of an acclaimed series set during World War I, now broadens her canvas with her first major stand-alone book—an epic historical novel set in thirteenth-century Constantinople, where a woman must live a lie in her quest to uncover the truth.
Arriving in the ancient Byzantine city in the year 1273, Anna Zarides has only one mission: to prove the innocence of her twin brother, Justinian, who has been exiled to the desert for conspiring to kill Bessarion, a nobleman.
Disguising herself as a eunuch named Anastasius, Anna moves freely about in society, using her skills as a physician to manoeuver close to the key players involved in her brother's fate. With her medical practice thriving, Anna crosses paths with Zoe Chrysaphes, a devious noblewoman with her own hidden agenda, and Giuiliano Dandolo, a ship's captain conflicted not only by his mixed Venetian-Byzantine heritage but by his growing feelings for Anastasius.
Trying to clear her brother's name, Anna learns more about Justinian's life and reputation—including his peculiar ties to Bessarion's beautiful widow and his possible role in a plot to overthrow the emperor. This leaves Anna with more questions than answer, and time is running out. For an even greater threat lies on the horizon: Another Crusade to capture the Holy Land is brewing, and leaders in Rome and Venice have set their sights on Constantinople for what is sure to be a brutal invasion. Anna's discoveries draw her inextricably closer to the dangers of the emperor'streacherous court—where it seems that no one is exactly who he or she appears to be.
Wendy is a reporter on a mission: She's chasing down the lowest of the low-sexual predators-and exposing them on national television. Her big break comes when she nails a child advocate who works with abused and underserved children. She's there, cameras rolling, when the cops cuff him and the guy realizes his life is well and truly over.
Three months later, the perp is off the grid, missing and presumed dead after the father of a victim claims to have killed him. Wendy, proud to have taken the man down in front of a shocked television audience, has moved on to the story of a missing girl, Erin, in a nearby suburb. The whole country is obsessed with finding this child, and Wendy should be well on her way to journalistic superstardom.
Then is all comes unhinged: Wendy gets a phone call that changes everything. A group of local fathers, out of work and not above vigilante justice, begins to take matters into their own hands
on Erin's behalf. Secrets long-buried rise to the surface and Wendy begins to wonder if her assumptions that fateful night three months ago were based on solid investigative journalism-or if she has unwittingly been part of a grand manipulation aiming to destroy and innocent man.
April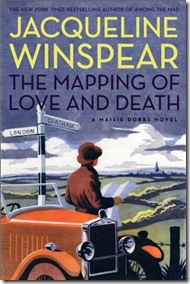 The Mapping of Love & Death by Jacqueline Winspear
Maisie Dobbs is retained by an American couple to find a nurse whose love letters were discovered among their dead son's belongings.
to be continued…