2010: #3 – Lamb (Christopher Moore)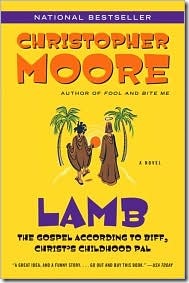 Book #3 was Lamb: The Gospel According to Biff, Christ's Childhood Pal by Christopher Moore.  The back of the book reads:
The birth of Jesus has been well chronicled, as have his glorious teachings, acts, and divine sacrifice after his thirtieth birthday. But no one knows about the early life of the Son of God, the missing years — except Biff, the Messiah's best bud, who has been resurrected to tell the story in the divinely hilarious yet heartfelt work "reminiscent of Vonnegut and Douglas Adams" (Philadelphia Inquirer).

Verily, the story Biff has to tell is a miraculous one, filled with remarkable journeys, magic, healings, kung fu, corpse reanimations, demons, and hot babes. Even the considerable wiles and devotion of the Savior's pal may not be enough to divert Joshua from his tragic destiny. But there's no one who loves Josh more — except maybe "Maggie," Mary of Magdala — and Biff isn't about to let his extraordinary pal suffer and ascend without a fight.
I thought this was pretty good, and not nearly as sacrilegious as I thought it might be. When we meet Joshua (Jesus) at a young age he is already quite aware of who he is and who his father is, amusing his younger brother by bringing dead lizards back to life (his ability to reanimate is a recurring theme). Biff is quite likeable, if misguided at times, and is thoroughly devoted to Josh — something that is readily apparent by the end of the story.  There's no big surprise about how it ends, but the middle is wholly original. Josh and Biff's journey to find the three wise men who witnessed his birth has a touch of The Christmas Carol in it, as Josh learns something new about himself with each adventure. This is definitely one of Moore's stronger novels.
Other reviews:
an adventure in reading: BOOK: Lamb by Christopher Moore
Lamb: The Gospel According to Biff, Christ's Childhood Pal
Look At That Book: Review: Lamb – Christopher Moore
A Hoyden's Look at Literature: Lamb: The Gospel According to Biff
Page count: 444 | Word count: 148,137
2009: Lord John and the Brotherhood of the Blade (Diana Gabaldon)
2008: Lord John and the Private Matter (Diana Gabaldon)
2007: No Second Chance (Harlan Coben)
2006: Lost Innocents (Patricia MacDonald)
2005: 3rd Degree (James Patterson)
Used in these Challenges: Countdown Challenge 2010; 2010 100+ Reading Challenge; Reading From My Shelves Project; Pages Read Challenge Season 2; TwentyTen Challenge;