2010: #5 – Bird by Bird (Anne Lamott)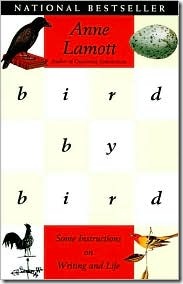 Book #5 was Bird by Bird: Some Instructions on Writing and Life by Anne Lamott. The back of the book reads:
"Thirty years ago my older brother, who was ten years old at the time, was trying to get a report on birds written that he'd had three months to write. It was due the next day. We were out at our family cabin in Bolinas, and he was at the kitchen table close to tears, surrounded by binder paper and pencils and unopened books on birds, immobilized by the hugeness of the task ahead. Then my father sat down beside him, put his arm around my brother's shoulder, and said, 'Bird by bird, buddy. Just take it bird by bird.'"
Ask anyone who writes what books they would recommend, and this one is sure to be on the list. Unfortunately, I didn't enjoy it as much as I enjoyed On Writing.  I did think there was some good advice — taking things "bird by bird" and looking at the world through a 1-inch picture frame come to mind — and I appreciated her description of what it's like to be published, but the rest of it just didn't speak to me like I expected it to. I still would recommend it to those who want to write, and I'll keep it on my bookshelf, but I don't think it is a book I will refer back to over and over again.
Other reviews:
Book Review: *Bird by Bird* by Anne Lamott | She Is Too Fond Of Books
Page count: 239 | Word count: 59,933
2009: Five on a Treasure Island (Enid Blyton)
2008: I Heard That Song Before (Mary Higgins Clark)
2007: Up Island (Anne Rivers Siddons)
2006: The Big Love (Sarah Dunn)
2005: The Reptile Room (Lemony Snicket)
Used in these Challenges: 2010 100+ Reading Challenge; Reading From My Shelves Project; Pages Read Challenge Season 2;