2010: Mailbox Monday – Not Unexpected
Is anyone surprised by the book that was in my mailbox last week?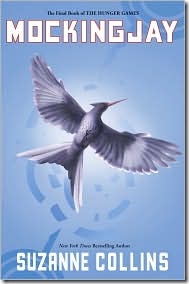 I originally determined that Mockingjay was going to have to wait until I finished my book club read for next Tuesday, Moll Flanders by Daniel Defoe. That didn't last long, because I quickly discovered that August is absolutely not the right time for me to try reading a classic written in 1722.  I just don't have the concentration required to parse the language. So, I have failed in my book club duties and have started Mockingjay.
But I'm savoring it!  I'm limiting my reading to bedtime only, so I'm only on chapter 6 despite starting it on Friday.  I have been skillfully avoiding all spoilers, and that's harder than you think!  Thank you to all you other book bloggers who have so kindly labeled your reviews according to whether there are spoilers or not.  Though, to be safe, I'm mostly avoiding all reviews of the book for the time being.
Was Mockingjay in your mailbox too?  Did it have company?
Mailbox Monday is hosted during the month of August by Chick Loves Lit.