2010: #24 – Shakespeare's Landlord (Charlaine Harris)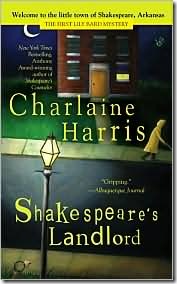 Book #24 was Shakespeare's Landlord, the first book in Charlaine Harris's Lily Bard series.  The back of the book reads:
Lily Bard is a loner. Other than the day-to-day workings of her cleaning and errand-running service, she pays little attention to the town around her. But when her landlord is murdered, Lily is singled out as the prime suspect, and proving her innocence will depend on finding the real killer in quiet, secretive Shakespeare.
Charlaine Harris tends to use heroines that are a little bit dark and gloomy. Lily Bard really isn't the happy-go-lucky type.  She's a loner, but it's because something horrible in her past has led to even her closest friends and family not knowing how to interact with her. So she lives by rote and routine — if nobody bothers her, she won't bother them.  Unfortunately, someone has chosen to use her garbage cart to dump her landlord's body in the park across the street from her house. Lily also isn't a detective, but she can't help but be observant. She starts to come out of her shell and actually live her life as the book progresses and the mystery deepens. I think Harris has built an interesting cast of characters here, and I look forward to continuing the series.
Other reviews:
not enough books: Shakespeare's Landlord
an adventure in reading: BOOK: Shakespeare's Landlord
Tiny Little Reading Room: Review: Shakespeare's Landlord
Page count: 214 | Word count: 62,514
2009: The Beautiful Things That Heaven Bears (Dinaw Mengestu)
2008: The Death of Vishnu (Manil Suri)
2007: Mistral's Kiss (Laurell K. Hamilton)
2006: Micah (Laurell K. Hamilton)
2005: The Vile Village (Lemony Snicket)
Used in these Challenges: The Four Month Challenge; Random Reading Challenge; 2010 100+ Reading Challenge; Reading From My Shelves Project; 1st in a Series Challenge; Pages Read Challenge Season 2;