2010: What am I Reading on Mailbox Monday?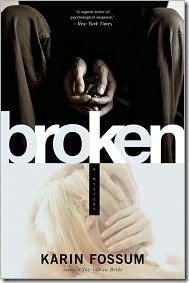 There was just one book in my mailbox this week.  I've really slowed down my review copy requesting, so only average maybe 2 books a month.  This book was from Amazon Vine. Broken is by Karin Fossum, a Norwegian author who is better known for her Inspector Sejer series. This book has an interesting premise: an author is harassed by a character until she agrees to tell his story. The back of the book reads:
A gripping novel set on the boundary between fact and fiction.

A woman wakes one night to find that a strange man has walked into her bedroom. She lies there in terrified silence unable to move. The woman is an author and the man one of her prospective characters. So desperate is he to have his story told that he has resorted to breaking into her house to make her tell it.

She creates Alvar Eide, forty-two years old, single, who works in an art gallery. He lives a quiet, dutiful life, carefully designed to avoid surprises. One winter's day, all this begins to change when an emaciated young heroin addict walks into the gallery. A kind man, Alvar gives her a cup of coffee to warm her up. She returns some weeks later to his place of work, and then one day appears on his doorstep demanding to be let in.

Interspersed with the chapters of Alvar's story are his encounters with its author — the frantic attempts of a fictional man trying to control his own destiny. Broken is a gripping novel about the boundary between fact and fiction and the perils of good intentions.
I've barely started it, but so far I like it.  Along with Broken, I'm reading The Banker by Dick Francis and I'm listening to Stalking Susan by Julie Kramer, which I wrote about yesterday in my Sunday Salon post.
I'm not sure what I'll read when I'm finished these.  I think next in my book book queue is Sweetwater Creek by Anne Rivers Siddons.  Maybe Baltimore Blues by Laura Lippman on audio.
It's Monday! What are you Reading? is hosted by One Person's Journey Through a World of Books.  Mailbox Monday is hosted during the month of August by Chick Loves Lit.