2011: #10 – Deeper Than The Dead (Tami Hoag)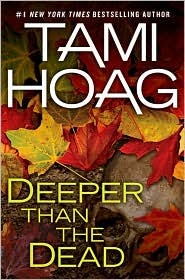 Book #10 was Deeper Than The Dead, the first book in Tami Hoag's Deeper Than The Dead series.  The back of the book reads:
California, 1985-Four children and young teacher Anne Navarre make a gruesome discovery: a partially buried female body, her eyes and mouth glued shut. A serial killer is at large, and the very bonds that hold their idyllic town together are about to be tested. Tasked with finding the killer, FBI investigator Vince Leone employs a new and controversial FBI technique called "profiling", which plunges him into the lives of the four children-and the young teacher whose need to uncover the truth is as intense as his own. But as new victims are found, Vince and Anne find themselves circling the same small group of local suspects, blissfully unaware that someone very near to them is a murderous psychopath…
Tami Hoag and I go way back.  In the early/mid-90s, she was one of the first authors I poached from my parents' bookshelf. She introduced me to romantic suspense long before I even knew what romantic suspense was. And then I read Kill the Messenger, which didn't connect with me at all, and she fell further down my list of go-to authors. Thankfully, with Deeper Than The Dead, she is back.
First of all, I think the title and the meaning behind it is genius.  It refers to the location of the FBI's Behavioral Science Unit in its early days;  the office is in the bowels of the building, and therefore its inhabitants are deeper than the dead. But really, the book has very little to do with the BSU as a unit. The focus is Vince Leone, a profiler who takes it upon himself to go help a promising young detective who thinks he's found a serial killer.
Also involved in the case is 5th grade teacher Anne Navarre, who is sucked in when her students find the latest body. One of the things I think worked really well in this book was the way Hoag used the children to show us some of what was happening behind the scenes.  I think she captured each one of them perfectly, especially the troubled bully, Dennis.  It helps us remember that even the most disturbed child was probably a victim.
Vince and Anne make an unexpected and unusual team, but I liked them together. I actually wild-guessed who the bad guy was quite early in the story, but I think it comes from the sheer amount of these sorts of books I read — you eventually learn how things work. Hoag does a good job of making me doubt my guess on more than one occasion.
Beneath all this effusive praise, I do have a few nits to pick. 1) I didn't see the point of Anne's despicable father, except to serve as yet another example of bad parenting in a story in which crappy parents abound. 2) Anne's best friend Franny was a little too flaming, especially for a kindergarten teacher in 1985. And 3) Hoag uses the term "person of interest" on several occasions, and this was a term that wasn't widely used, even amongst law enforcement, until at least the mid-90s. But none of this was enough to pull me away from the story, and I look forward to not only reading the sequel, but to bumping Tami Hoag back up a few spots on my "must-read" list.
This book was a review copy.
Other reviews:
Lesa's Book Critiques: Deeper Than the Dead by Tami Hoag
From the TBR Pile: Deeper Than the Dead
Musings of a Bookish Kitty: Reviews: Deeper Than the Dead
Book Review: Deeper Than The Dead by Tami Hoag « Rundpinne
Page count: 560 ('11 total: 2,630) | Approximate word count: 140,000 ('11 total: 974,873)
2010: What to Expect Before You're Expecting (Heidi Murkoff)
2009: Claus: A Christmas Incarnation: Vol I (C. John Coombes)
2008: Dead Aim (Iris Johansen)
2007: Maisie Dobbs (Jacqueline Winspear)
2006: K is for Killer (Sue Grafton)
2005: Immortal in Death (J.D. Robb)
Used in these Challenges: ARC Reading Challenge 2011; Outdo Yourself Reading Challenge 2011; What's in a Name 4 Challenge;