2011: #9 – Charm City (Laura Lippman)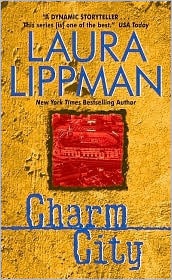 Book #9 was Charm City, the second book in Laura Lippman's Tess Monaghan series.  The back of the book reads:
Reporter-turned-PI Tess Monaghan loves every inch of her native Baltimore—a quirky city where baseball reigns and homicide seems to be the second most popular sport. Business tycoon "Wink" Wynkowski wants to change all that by bringing pro basketball back to town—a laudable mission that's greeted with widespread cheers . . . until a muckraking front-page exposé of his past appears in the Beacon-Light. The Blight's surprised editors are sure they killed the piece. Instead, the piece kills Wynkowski, who's discovered asphyxiated in his garage with his car's engine running. Now the paper wants former newshound Tess to track down the rogue computer hacker whose prank took a human life. But there's more than cyber-crime involved here—and Tess is about to discover firsthand that trying to stay alive in Charm City is murder these days.
This second book in the series made yet another enjoyable listen.  Lippman manages to make Baltimore just as much a character as Tess or her Aunt Kitty. And Deborah Hazlett's narration doesn't hurt — her Baltimore accent is spot-on. Tess herself isn't the greatest private investigator, which I guess is to be expected, since she hasn't been one for very long.  A lot of what she discovers is happenstance. But where she does excel is in talking to people, and it's this ability to talk to everyone from an old lady in a poor part of town to a mafia thug to the rich (and more than a little crazy) ex-wife of the victim that pulls her forward. I liked the addition of Esskay, the greyhound that she takes custody of for her injured "uncle".  Tess needed a little unconditional love in her life, especially since her love life remains a bit of a mess.
The only thing that was confusing to me was the game of Botticelli that Tess plays in an attempt to get her out of a jam. Not only did I not understand it based on the description in the book, I don't even understand it after reading the Wikipedia article!
Other reviews:
S. Krishna's Books: Book Review: Charm City – Laura Lippman
Beth Fish Reads: Review: Charm City by Laura Lippman
Audiobook length: 9hrs 32min | Approximate word count: 80,000 ('11 total: 834,873)
2010: Forbidden Falls (Robyn Carr)
2009: Amelia Peabody's Egypt (Elizabeth Peters)
2008: The Copenhagen Connection (Elizabeth Peters)
2007: Birthright (Nora Roberts)
2006: Memoirs of a Geisha (Arthur Golden)
2005: E is for Evidence (Sue Grafton)
Used in these Challenges: 2011 Audiobook Challenge; Outdo Yourself Reading Challenge 2011; What's in a Name 4 Challenge;