2011: #16 – The Sound and the Fury (William Faulkner)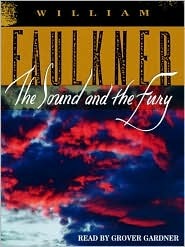 Book #16 was The Sound and the Fury by William Faulkner. The back of the book reads:
First published in 1929, Faulkner created his "heart's darling," the beautiful and tragic Caddy Compson, whose story Faulkner told through separate monologues by her three brothers–the idiot Benjy, the neurotic suicidal Quentin and the monstrous Jason.
"Out, out, brief candle! Life's but a walking shadow, a poor player that struts and frets his hour upon the stage and then is heard no more: it is a tale told by an idiot, full of sound and fury, signifying nothing." Macbeth (Act V, Scene V)
Why do the classics have to be so danged hard to read? I appreciate the story Faulkner is telling us, of how a daughter's unplanned pregnancy affects her entire family in ways she couldn't have expected or anticipated.  The language at times is simply beautiful. But the stream of consciousness writing is painful to read. I spent a solid month trying to get through this for my book club, and still didn't exactly finish it. And I apparently didn't fully understand what I *did* read, because when I consulted the Spark Notes for the book, there was a timeline of events that I didn't pick up on at all. So I got the gist of the story, but a lot of the detail sailed over my head. Since I consider myself an intelligent person, it's just disappointing.
I do enjoy some "classics" authors: Twain, Steinbeck, Fitzgerald, to name a few. But Faulkner is never going to be on that list.
Other reviews:
book review: The sound and the fury – faulkner | FNORDincorporated
The Sound and the Fury – William Faulkner – Farm Lane Books Blog
The Blue Bookcase: The Sound and the Fury by William Faulkner
Book #8 – The Sound and the Fury, by William Faulkner « A Room of One's Own
books i done read: The Sound and the Fury – William Faulkner
Page count: 326 ('11 total: 4,284) | Approximate word count: 81,500 ('11 total: 1,468,552)
2010: Ivory Tower Cop (George Kirkham & Leonard Territo)
2009: Full Speed (Janet Evanovich)
2008: Dead Until Dark (Charlaine Harris)
2007: Flowers in the Attic (V.C. Andrews)
2006: Blue Moon (Laurell K. Hamilton)
2005: The Austere Academy (Lemony Snicket)
Used in these Challenges: Four Month Challenge – Part 5; New Author Challenge 2011; Outdo Yourself Reading Challenge 2011;