2011: #15 – The Silent Hour (Michael Koryta)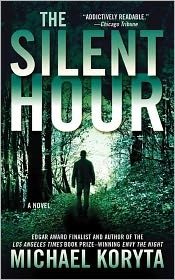 Book #15 was The Silent Hour, the fourth book in Michael Koryta's Lincoln Perry series. The back of the book reads:
Fresh off the critical acclaim of his Los Angeles Times Book Prize–nominated Envy the Night, Michael Koryta returns with a blistering new installment in the Lincoln Perry series.

Whisper Ridge
Home to Dreams
October 2, 1992–April 12, 1996

So reads the strange epitaph carved beside the door of the home called Whisper Ridge, a multimillion-dollar piece of architectural majesty that once housed the beginnings of a unique program for paroled murderers. The program never got off the ground, however, despite how passionate a woman named Alexandra Cantrell, daughter of a notorious Mafia don, and her husband, Joshua, had been about it. Still uninhabited twelve years later, the house remains as a strange monument to dangerous secrets, falling into ruin as the forest grows up around it.

While the couple's abrupt exit was unusual, it was also not regarded as suspicious—until the bones of Alexandra's husband are found buried in the woods.

Private investigator Lincoln Perry isn't thrilled about the situation, or his client: Parker Harrison served fifteen years for murder but claims Alexandra's intervention saved his life. Now he wants to find her—and he's not the only one.

What seems at first like the simplest of jobs proves to be an undertaking that will challenge both Perry's abilities as a detective and his commitment to that calling. With a new partner to train and a case that leads straight to the heart of the Cleveland organized crime scene, Perry finds himself glancing over his shoulder at every turn, pushing the bounds of safety even as he backs away.

Once again Michael Koryta has crafted an intricate, lightning-paced thriller, ratcheting up the tension as he explores just how dangerous the offer of a second chance can be. The latest installment in the Lincoln Perry series, which the Chicago Tribune calls "addictively readable," marks another step forward in his incredible career.
This was my first glimpse of Koryta's non-supernatural side, and you'll have to color me impressed. Lincoln Perry has reached the point in his career that I think every good hard-boiled detective series explores: the point where they have to ask themselves, "Is this still worth it?" Tortured by memories of his partner and girlfriend in mortal danger, Lincoln starts taking more risk on himself, a decision that rarely leads to happy endings. Throughout the story, you're never quite sure if the mystery is wrapped up in the mob, in drugs, or in something altogether different. All you know for sure is that things are more dangerous than Lincoln expected. It's never just a simple missing persons case.
One thing in particular that I appreciated about Koryta's writing is that his characters aren't superheroes. When someone is injured, it affects not only their body but their mind. There's no getting shot three times and still miraculously chasing down the bad guy here. 
I haven't read the other three books in the series, but I had no problem jumping in and connected with Lincoln. He's everything we look for in a hard-boiled detective. Hard on the outside, soft and gooey within.
Audiobook length: 11 hrs 40 min | Approximate word count: 84,000 ('11 total: 1,387,052)
2010: Heat Wave (Richard Castle)
2009: College Girl (Patricia Weitz)
2008: The Paid Companion (Amanda Quick)
2007: Dark Side of the Moon (Sherrilyn Kenyon)
2006: Burnt Offerings (Laurell K. Hamilton)
2005: F is for Fugitive (Sue Grafton)
Used in these Challenges: Countdown Challenge 2011; 2011 Audiobook Challenge; Outdo Yourself Reading Challenge 2011;