2011: #31 – Never Look Away (Linwood Barclay)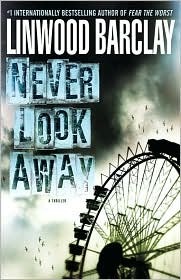 Book #31 was Never Look Away by Linwood Barclay. The back of the book reads:
In this tense, mesmerizing thriller by Linwood Barclay, critically acclaimed author of Fear the Worst and Too Close to Home, a man's life unravels around him when the unthinkable strikes.

A warm summer Saturday. An amusement park. David Harwood is glad to be spending some quality time with his wife, Jan, and their four-year-old son. But what begins as a pleasant family outing turns into a nightmare after an inexplicable disappearance. A frantic search only leads to an even more shocking and harrowing turn of events.

Until this terrifying moment, David Harwood is just a small-town reporter in need of a break. His paper, the Promise Falls Standard, is struggling to survive. Then he gets a lead that just might be the answer to his prayers: a potential scandal involving a controversial development project for the outskirts of this picturesque upstate New York town. It's a hot-button issue that will surely sell papers and help reverse the Standard's fortunes, but strangely, David's editors keep shooting it down.

Why?

That's a question no longer at the top of David's list. Now the only thing he cares about is restoring his family. Desperate for any clue, David dives into his own investigation—and into a web of lies and deceit. For with every new piece of evidence he uncovers, David finds more questions—and moves ever closer to a shattering truth.
This was a story that didn't go where you expected it to. The twists and turns started from the very beginning, but some held together better than others. We end up with two non-related story lines that are connected by one person: journalist David Harwood.
David is understandably upset when his wife disappears and things start to not make sense. But I think he was allowed a little too much leeway for someone who is essentially a murder suspect. The cops in this story are largely useless, and I might have preferred if they weren't involved at all. The resolution has a little bit of a "let's just hurry up and tie this up" ring to it.
Overall, this wasn't a bad read, I just didn't think it was top notch. I would give Barclay another try; this premise and I never clicked.
This book was a review copy.
Other reviews:
Cheryl's Book Nook: Never Look Away
S. Krishna's Books: Book Review: Never Look Away – Linwood Barclay
Presenting Lenore: Book Review: Never Look Away by Linwood Barclay
Me, My Book and the Couch: Never Look Away – Linwood Barclay
book-blog.com: Barclay, Linwood: Never Look Away
Page count: 432 ('11 total: 8,761) | Approximate word count: 108,000 ('11 total: 3,004,402)
2010: White Witch, Black Curse (Kim Harrison)
2009: Breath of Scandal (Sandra Brown)
2008: Seduction in Death (J.D. Robb)
2007: Exile (Richard North Patterson)
2006: The Snake, the Crocodile, and the Dog (Elizabeth Peters)
2005: H is for Homicide (Sue Grafton)
Used in these Challenges: ARC Reading Challenge 2011; New Author Challenge 2011; Outdo Yourself Reading Challenge 2011;