2011: #30 – A Drop of the Hard Stuff (Lawrence Block)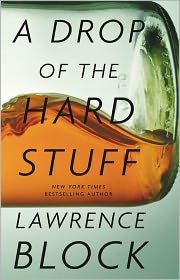 Book #30 was A Drop of the Hard Stuff, the 17th book in Lawrence Block's Matthew Scudder series. The back of the book reads:
Matthew Scudder is facing his demons. Forced out of the NYPD, he's given up the drink. He's thinking seriously about his relationship with sometime girlfriend Jan. Then he runs into "High-Low" Jack Ellery, a childhood friend from the Bronx. They're two sides of the same coin: Scudder once solved crimes as a detective. Ellery committed them. In Scudder, Ellery sees the moral man he might have become. In Ellery, Scudder sees the hard-won sobriety he hopes to achieve.

Then Ellery is killed, shot once in the mouth and once between the eyes, presumably while attempting to atone for past sins. Is it what he saw or what he said that got him killed? Ellery had no family, no friends to press for justice. Scudder reluctantly begins his own investigation, with just one lead-Ellery's Alcoholics Annonymous list of people he wronged. One of them may be a murderer, but that's not necessarily Scudder's greatest danger. Immersing himself in Ellery's world may lead him right back to the bar stool.

Exploring themes of loss, nostalgia, and redemption, for Lawrence Block, A DROP OF THE HARD STUFF circles back to how it all began, reestablishing why the Matthew Scudder series is widely regarded as one of the pinnacles of American detective fiction.
I imagine that when you've written 16 books in a series that spans a few decades, you start to wonder about when your character needs to retire. Alternately, you can bring us back to his past, which is exactly what Block has done in this latest Matthew Scudder novel.
Really, it's a stroke of genius. Some people don't like to pick up a book this late in a series, but set it sometime after book #5, and you not only thrill your fans with a nostalgic trip to the past, but you have the chance to pick up new readers as well.
A Drop of the Hard Stuff is set towards the end of Scudder's first year of sobriety. Alcoholism is a major theme, with Scudder living his life from one AA meeting to the next. When Jack Ellery is murdered while working his steps, Scudder feels almost compelled to find out what happens. It's hard to tell whether it's because he feels bad for Ellery, or if he worries that he could some day suffer the same fate.
It seems that everything Scudder does involves a decision about whether or not he will remain sober. Even the smallest thing, like choosing in which direction to walk down the street, or how to handle his annoyance with his girlfriend, seems like a major crossroad. I have no personal frame of reference, but Block makes us feel Scudder's struggle, and think about how much the little things matter. How one miniscule step in the wrong direction can drive the entire train off the tracks. It makes you think.
Overall, I really enjoyed this, and I'm looking forward to reading more of the earlier books in this series.
This book was a review copy.
Other reviews:
Book Review: A Drop of the Hard Stuff by Lawrence Block « Rundpinne
Review: A Drop of the Hard Stuff by Lawrence Block « book'd out
Page count: 336 ('11 total: 8,329) | Approximate word count: 84,000 ('11 total: 2,896,402)
2010: Desert Heat (J.A. Jance)
2009: The Chemist (Janson Mancheski)
2008: Grave Sight (Charlaine Harris)
2007: The Bone Collector (Jeffery Deaver)
2006: Visions in Death (J.D. Robb)
2005: Jackdaws (Ken Follett)
Used in these Challenges: Countdown Challenge 2011; ARC Reading Challenge 2011; Outdo Yourself Reading Challenge 2011;