2011: #48 – Bloodline (Mark Billingham)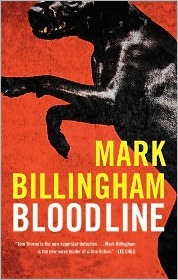 Book #48 was Bloodline, the eighth book in Mark Billingham's Tom Thorne series. The back of the book reads:
A killer is on the loose. The victims: children whose mothers can't protect them.

The past is coming back to haunt the people of London: a murderer is targeting the children of victims of Raymond Garvey, an infamous serial killer from London's past.

When Murder Squad veteran Detective Tom Thorne, who solves the London Police Department's most difficult cases, is called into what seems like, for once, an ordinary domestic murder, he thinks he's caught a break. A woman has been murdered by someone she knows. A positive pregnancy test found on the floor beside her. Thorne plans to question the husband, arrest him and return home to deal with his own deteriorating personal life.

But when a mysterious sliver of bloodstained X-ray that was found clutched in the victim's fist is replicated at other crime scenes around the city, Thorne realizes that this is not a simple case. As the bits of X-ray begin to come together to form a picture, it becomes clear that the killer knows his prey all too well and is moving through a list that was started long ago.

As Thorne attempts to protect those still alive, nothing and nobody are what they seem. Not when Thorne is dealing with one of the most twisted killers he has ever hunted.
This is the eighth book in the series, but the first one I've read. The good thing is, I wasn't lost at all. I may have been missing some backstory and nuances of the main characters, but it wasn't evident.
I thought this was a solid premise. People are being murdered, and the only link the police can find is to a serial killer from years gone by. Problem is, he's dead. Is it a copycat? Or something more?
In between trying to solve the case and keeping possible future victims safe, Thorne is dealing with a serious personal issue – his girlfriend has miscarried, and he really isn't sure how to deal with it. I think this added an interesting dimension not only to Thorne, but to the story itself.
I will definitely seek out the other books in this series.
This book was a review copy.
Other reviews:
Book Review: Bloodline by Mark Billingham
Book Reviews | "Bloodline" by Mark Billingham | The Lit Review Dot Com
Musings of a Bookish Kitty: Review: Bloodline by Mark Billingham
BLOODLINE – Mark Billingham | MURDER by TYPE
Page count: 352 ('11 total: 12,317) | Approximate word count: 105,600 ('11 total: 4,611,914)
2010: Horns (Joe Hill)
2009: Bonk (Mary Roach)
2008: Blood Noir (Laurell K. Hamilton)
2007: Ghost Story (Peter Straub)
2006: Seduced by Midnight (Laurell K. Hamilton)
2005: Harry Potter and the Half-Blood Prince (J.K. Rowling)
Used in these Challenges: 2011 E-book Reading Challenge; ARC Reading Challenge; New Author Challenge 2011; Outdo Yourself Reading Challenge 2011;