2011: Sunday Salon – One Crazy Weekend
I don't know about your weekend, but mine has been a doozy!
My sister and her husband and two kids were coming to visit us Thursday night until Saturday morning. We had plans to go to the zoo and then bowling on Friday — a lot of excitement for a 4 and 6 year old! Turns out, we had more in store.
After dinner on Thursday, we sent the kids (and the husbands) outside to get rid of some energy. Next thing we know, my husband is coming in talking about a hurt kitten and getting the carrier and taking it to the vet. I went outside to see what he was talking about.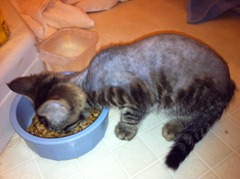 The kitten came right over to us (that's how he found it — it ran out from under his car towards him), and I could see that he didn't appear hurt or sick. But he *had* been abused. Someone had used clippers to shave all of the hair off his back, and cut his whiskers off. Later, we found he had some purple stuff on his bottom and a few of his nails (nail polish?).
We went around to a few neighbors to see if anyone claimed him or knew who he belonged to, but no one did. Plus, considering his condition, I wasn't all that thrilled about finding who he did belong to. So, he ended up in our basement bathroom until we could figure out what to do with him.
I took him to the vet Friday morning to get him tested, to make sure we weren't bringing something dangerous to our two cats into the house. We found out he was a boy, and weighed about 3 lbs, and was 12 weeks old (best guess). He tested negative for everything, but did have to be de-wormed and de-fleaed.
Somehow, he is still an incredibly loving and friendly cat. I even bathed him last night before moving him upstairs, and he only squawked once and barely struggled.
I contacted a local rescue organization, but they didn't have room for him. The vet takes in kitten to adopt out, but they already have 25, so again, no room. I was able to move him out of the bathroom and into an empty bedroom upstairs for now.
The tricky part of the situation is that we're leaving on a 2 week vacation on Thursday! I feel bad about leaving him alone, but we have someone who volunteered to check on him every day.
So…… Anyone want a kitten?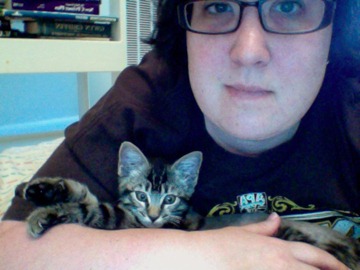 BUT THAT'S NOT ALL!
The reason I took my sister and her family bowling on Friday night was that Scott was starting his 8-ball doubles tournament. Last year, him winning this tournament was the reason we were able to go to Las Vegas. He finished up the first match just before we left the bowling alley, and unfortunately, he lost. Thankfully, it's a double elimination tournament, and he and his partner went on to win two more matches that night.
The tournament continued on Saturday. I watched the final two matches, and it is horrendously nerve wracking! But, amazingly, they won again!! We're going back to Vegas!
It's going to be my 3rd week of vacation this summer, and I. Can't. Wait.
So I probably should talk a little about books, huh? During all of this excitement, I actually managed to finish a couple of books. One was Trapped, a YA book by Michael Northrup. Another was Madapple, another YA book by Christina Meldrum. Both were good, but Madapple has a massive plot hole that I'm still considering. Since we're leaving for vacation on Thursday, I don't believe I'll start another audio book until we return. I'm limiting myself to taking one hard copy book, and it's going to be my ARC of Maine by J. Courtney Sullivan. I'm really looking forward to it! Everything else will have to be read on my Kindle.
I am way way way behind on my reviews, so I'd like to get some scheduled to post while I'm gone. It all depends on how much time I have this week, and honestly, it's not looking good. So if you don't hear from me for a few weeks, no worries! I'll be back!