2021: #19 – The Cold Dish (Craig Johnson)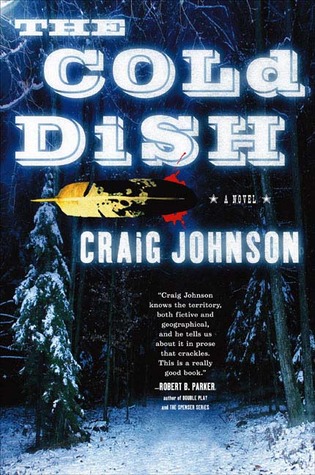 The Cold Dish
by
Craig Johnson
Series:
Walt Longmire #01
Published by
Viking Adult
on December 29, 2004
Genres:
mystery
,
western
Pages:
384


Walt Longmire, sheriff of Wyoming's Absaroka County, knows he's got trouble when Cody Pritchard is found dead. Two years earlier, Cody and three accomplices had been given suspended sentences for raping a Northern Cheyenne girl. Is someone seeking vengeance? Longmire faces one of the more volatile and challenging cases in his twenty-four years as sheriff and means to see that revenge, a dish that is best served cold, is never served at all.
I've been meaning to start this series for a while, and I'm glad I finally got around to it.
Walt Longmire is the sheriff of a fictional county in Wyoming when a young man is found dead. Solving this case isn't going to be easy, because a few years before he and some of his friends were found guilty of raping a Native American girl who is mentally disabled. A lot of people have a reason to hurt him, but is that the reason he's dead? Why now?
To add to the complexity, Walt himself isn't exactly sunshine and roses. His wife has passed away from cancer, and his life has felt very colorless since. He is mostly going through the motions, despite how hard the people who care about him try to convince him that life must go on. And the Native people who live on the reservation aren't his biggest fans either.
Despite Walt's greyness, there is a lot of color around him. Henry Standing Bear is a local bar owner and Walt's "in" on the reservation. Vic Morelli is his tough east-coast deputy who isn't sure she is where she should be. And above all is Wyoming itself, with its beautiful landscape and complex relationships. In addition to all that is a solid mystery that kept me guessing until the end.
If you're worried that you'll be spoiled because you've already seen the show, don't worry. The plot of this book isn't the same as the first season of the show, and you'll have the bonus of picturing the actors as you read. I plan to read more of these books, and I'll probably go back and finish the TV show too!
I read this for the following reading challenges:
Other reviews:
"I plan to read all the remaining books in Johnson's series–Walter Longmire is an interesting man whose career I want to follow." — Marilyn's Mystery Reads
"Homage is paid to Cheyenne culture throughout "The Cold Dish," but a haunting scene late in the book will stay with me forever." — Nightstand Book Reviews
"I'll definitely be continuing this series. Mostly, it is the characters that drew me in and held me. They each have some flaw in their character that makes them human and easy to connect with." — Dab of Darkness Book Reviews