2011: #38 – The Particular Sadness of Lemon Cake (Aimee Bender)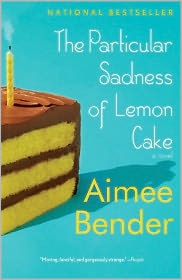 Book #38 was The Particular Sadness of Lemon Cake by Aimee Bender. The back of the book read:
On the eve of her ninth birthday, unassuming Rose Edelstein bites into her mother's homemade lemon-chocolate cake and discovers she has a magical gift: she can taste her mother's emotions in the slice. To her horror, she finds that her cheerful mother tastes of despair. Soon, she's privy to the secret knowledge that most families keep hidden: her father's detachment, her mother's transgression, her brother's increasing retreat from the world. But there are some family secrets that even her cursed taste buds can't discern.
This was a very unusual, but enjoyable, story. Some may think the story centers around Rose's "gift", but her abilities soon fade into the background of the story. What was horrible for her at first just becomes another part of her, as she hones her ability to work with and around it. I thought the author came up with some interesting ways for Rose to cope, including eating primarily processed foods (because factories taste better than emotions) and seeking out restaurants where the chefs cook with love.
For me, the story was really about the family. Rose's family is one where there is so much happening, but no one talks about it. In many ways, Rose is merely an observer. Her mother, brother, and father are all in their own little worlds, especially as Rose and her brother grow older. Turns out, there's more of a story behind Rose's gift than she ever would have thought.
I had one problem with the book, and that was with the subplot with her brother. It felt unfinished to me. I suspect that the author thought things were more clear than they actually were, and the story suffers from the ambiguity.
I don't normally read magical realism, but I won't be afraid to explore the genre in the future.
Other reviews:
Book Review: The Particular Sadness of Lemon Cake – S. Krishna's Books
(#61) Book Review: The Particular Sadness of Lemon Cake by Aimee Bender
Book Review: The Particular Sadness of Lemon Cake – Chick Lit Reviews
Book Review: The Particular Sadness of Lemon Cake | Capricious Reader
Booking Mama: Review: The Particular Sadness of Lemon Cake
Page count: 304 ('11 total: 9,913) | Approximate word count: 91,200 ('11 total: 3,708,850)
2010: Inner Harbor (Nora Roberts)
2009: The Masque of the Black Tulip (Lauren Willig)
2008: Hide (Lisa Gardner)
2007: The Night Gardener (George Pelecanos)
2006: Case Histories (Kate Atkinson)
2005: I'm Not the New Me (Wendy McClure)
Used in these Challenges: 2011 E-book Reading Challenge; New Author Challenge 2011; Outdo Yourself Reading Challenge 2011;