2021: #3 – The Glass Hotel (Emily St. John Mandel)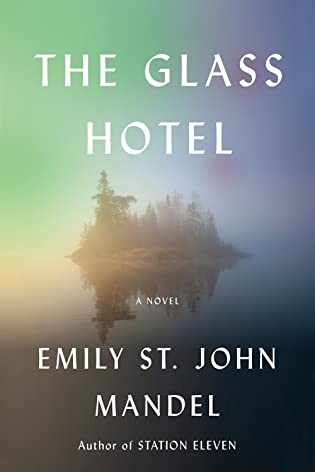 The Glass Hotel
by
Emily St. John Mandel
Published by
Knopf Publishing Group
on March 24, 2020
Genres:
literary fiction
Pages:
302


From the award-winning author of Station Eleven, an exhilarating novel set at the glittering intersection of two seemingly disparate events–a massive Ponzi scheme collapse and the mysterious disappearance of a woman from a ship at sea.

Vincent is a bartender at the Hotel Caiette, a five-star lodging on the northernmost tip of Vancouver Island. On the night she meets Jonathan Alkaitis, a hooded figure scrawls a message on the lobby's glass wall: Why don't you swallow broken glass. High above Manhattan, a greater crime is committed: Alkaitis is running an international Ponzi scheme, moving imaginary sums of money through clients' accounts. When the financial empire collapses, it obliterates countless fortunes and devastates lives. Vincent, who had been posing as Jonathan's wife, walks away into the night. Years later, a victim of the fraud is hired to investigate a strange occurrence: a woman has seemingly vanished from the deck of a container ship between ports of call.

In this captivating story of crisis and survival, Emily St. John Mandel takes readers through often hidden landscapes: campgrounds for the near-homeless, underground electronica clubs, the business of international shipping, service in luxury hotels, and life in a federal prison. Rife with unexpected beauty, The Glass Hotel is a captivating portrait of greed and guilt, love and delusion, ghosts and unintended consequences, and the infinite ways we search for meaning in our lives.
The Glass Hotel is Emily St. John Mandel's follow-up to Station Eleven, but it is a very different book. This book takes place in our world, and at the center of it is a Ponzi scheme — think Bernie Madoff, leaving enormous numbers of people without their life savings. But despite the different sort of plot, the book has the same ephemeral, dream-like feel that I remember from Station Eleven, even before the ghosts show up.

The story of the Ponzi scheme is book-ended by a pair of siblings. Paul is a young man with a drug addiction and a lot of guilt on his shoulders. It is through him that we first meet Vincent, his younger sister, and it is through him that we later say goodbye to her. Vincent is the heart of this story. She becomes involved with financier Jonathan Alkaitis, whose wealth is the result of the aforementioned Ponzi scheme. It's not really love, but it's an arrangement she enters into willingly, an opportunity to strip herself of her former life and start anew, to create her alternate reality.

The author bounces us around in time and viewpoints as we see things first come together and then unravel. We see the end of the Ponzi scheme. We see Alkaitis create an alternate reality of his own, where he hasn't been caught and isn't in prison forever. And we see the ways these two have touched other lives and left their marks on them.

I wasn't sure I was going to like this, but I found myself impressed by how well St. John Mandel evokes that ephemeral feeling. I won't doubt her again. 
I read this for the following reading challenges:
Other reviews:
"In the Mandel books I've read, the characters are often seeking something they can't describe. I think this makes for a very dream-like feeling to a book, where there's something ephemeral, just out of reach. Mandel has a way of describing their search for that thing in a way that never feels lost; it's always purposeful." — Taking on a World of Words
"An absolutely gorgeous literary novel with one of the most intricate (yet not remotely showy) plots I've ever come across. Everyone should read this." — She's Full of Lit
"The Glass Hotel isn't about a pandemic. But in a year of lost jobs, anti-maskers, and cancelled plans, when uneven fortunes are more apparent than ever, it asks the questions we're all grappling with right now. How do we cope with uncertain futures, tragedy, loss? How do we pass our trauma on to others, in ways we might not even notice? And, most importantly, how do we stop?" — Fiction Unbound