2011: #41 – Dead Reckoning (Charlaine Harris)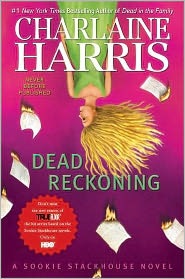 Book #41 was Dead Reckoning, the 11th book in the Sookie Stackhouse series by Charlaine Harris. The back of the book reads:
With her knack for being in trouble's way, Sookie witnesses the firebombing of Merlotte's, the bar where she works. Since Sam Merlotte is now known to be two-natured, suspicion falls immediately on the anti-shifters in the area. Sookie suspects otherwise, but her attention is divided when she realizes that her lover Eric Northman and his "child" Pam are plotting to kill the vampire who is now their master. Gradually, Sookie is drawn into the plot-which is much more complicated than she knows…
I felt pretty good about this book. I've been lukewarm about a lot of the books in the latter half of this series, but here we had a little bit of an old fashioned whodunit, rather than a lot of vampire/fae politics. Of course, we can't get away from the politics altogether. I've always preferred action over talk in this series, and there was plenty of action here. Sookie makes some interesting decisions in this book, and I quite enjoyed the return of Bubba. It was enough to keep me interested in the next novel.
Other reviews:
Dead Reckoning (True Blood) by Charlaine Harris : Book Review
Book Review: Dead Reckoning by Charlaine Harris
Candace's Book Blog: Book Review: Dead Reckoning
Review of "Dead Reckoning" by Charlaine Harris « Rhapsody in Books
Dead Reckoning by Charlaine Harris « Book Monkey
Audiobook length: 10 hrs 23 min | Approximate word count: 84,000 ('11 total: 3,972,850)
2010: So Much For That (Lionel Shriver)
2009: Drop Shot (Harlan Coben)
2008: Creation in Death (J.D. Robb)
2007: Final Jeopardy (Linda Fairstein)
2006: All Through the Night (Mary Higgins Clark)
2005: The Count and the Confession (John Taylor)
Used in these Challenges: Countdown Challenge 2011; 2011 Audiobook Challenge; Outdo Yourself Reading Challenge 2011;