2012: #1 – A Perfect Blood (Kim Harrison)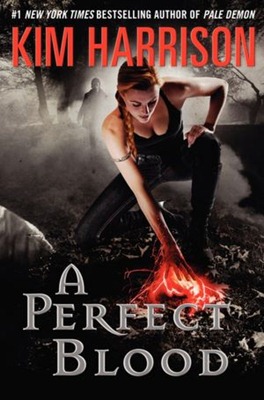 Title: A Perfect Blood
Author: Kim Harrison
Series: Rachel Morgan (The Hollows) #10
Format: Paperback (ARC)
Pages: 448 (2012 total – 448)
Approx. Word Count: 134,400 (2012 total – 134,400)
Release Date: February 21, 2012
Publisher: Harper Voyager
Categories: urban fantasy, witches/magic
Source: Publisher (via Amazon Vine)
Rating: 5 out of 5
Back of the book:
New York Times bestselling author Kim Harrison returns to the Hollows with the electrifying follow-up to her acclaimed Pale Demon!

Ritually murdered corpses are appearing across Cincinnati, terrifying amalgams of human and other. Pulled in to help investigate by the I.S. and the FIB, former witch turned day-walking demon Rachel Morgan soon realizes a horrifying truth: a human hate group is trying to create its own demons to destroy all Inderlanders, and to do so, it needs her blood.

She's faced vampires, witches, werewolves, demons, and more, but humanity itself might be her toughest challenge yet.
My thoughts:
New year, new format! I'm trying this on for a while to see how it feels…
I was super excited to get my hands on this advanced copy. This is my absolute favorite paranormal/urban fantasy series, which is why I have a hard time giving it anything other than full marks.
The book opens with Rachel and everyone else in her life trying to adjust to the new "normal". Rachel, now an official demon, is finding that even the most mundane tasks are next to impossible when you aren't considered to be human anymore. Even worse, she has voluntarily cut herself off from the ley lines in order to hide from the demon collective, leading her to rely on only potions and her wits to get by. And, to make things more complicated, her mother has sent a bodyguard to live in her tower, and Trent is acting strangely… familiar. Jenks is also adjusting to live as a widower and unwilling protector of a wingless fairy, and Ivy continues to try to find balance in her life, this time with FIB agent Glenn.
Rachel is unexpectedly recruited by the IS to find out who is killing witches in rather demonic ways. It's not long before she discovers that the culprits are a human hate group, twisted enough to use the very things they hate in order to reach their ultimate goal — the destruction of all Inderlanders.
If Rachel is going to survive without her ley lines, it's going to take every last wit and resource she has, even the ones she wishes she didn't have to use.
This series could very easily have become stale by now, but Harrison has kept it fresh by giving us fully-realized, complex characters that continue to grow and change throughout each book. No one escapes unscathed, and the possibilities are endless.
A Perfect Blood will be released on February 21, 2012.
Available from: Amazon | Barnes & Noble | Books A Million |IndieBound | WorldCat
Other reviews:
"It's good enough to make me want to re-read the series and is a worthy successor to Pale Demon." – Book Goggles
"A Perfect Blood is romantically charged and brimming with action" – Fiendishly Bookish
"Perfect Blood is exactly what fans want and love about the Hollows" – Diary of a Book Addict
Past reviews:
2011: Senseless (Mary Burton)
2010: The First Rule (Robert Crais)
2009: Eclipse (Richard North Patterson)
2008: Innocent in Death (J.D. Robb)
2007: Acceptable Risk (Robin Cook)
2006: Conspiracy in Death (J.D. Robb)
2005: The Poisonwood Bible (Barbara Kingsolver)