2011: #42 – Moon Called (Patricia Briggs)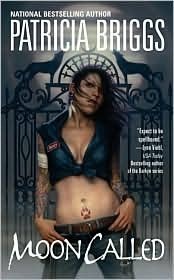 Book #42 was Moon Called, the first book in the Mercy Thompson series by Patricia Briggs. The back of the book reads:
Mercy Thompson's life is not exactly normal. Her next-door neighbor is a werewolf. Her former boss is a gremlin. And she's fixing a VW bus for a vampire. But then, Mercy isn't exactly normal herself.
I didn't know much about this series when I started this book, other than a few mentions here and there about it being good. It definitely lived up to the good things I've heard.
The world Briggs has built is a little bit different than the typical urban fantasy/paranormal universe. There's vampires and werewolves, but there is also a whole class of fae that includes creatures other than faeries. There's goblins and all sorts of "lesser" fae, and then there's Mercy, who is a skinwalker. She's sort of like a werewolf, but she turns into a coyote and she can do it whenever she wants; she isn't slave to the moon.
Mercy was raised by werewolves, so she quickly spots the young man who comes to her shop looking for work for what he is — a were on the run. It's her understanding of the weres and their politics that helps her survive the events of the novel.
Mercy is a strong lead, but she's not reckless. She doesn't take unnecessary risks, which puts her above some other strong leading ladies. Usually they're assertive, but have a tendency to think with their emotions rather than their head.
The book was a little heavy on world-building and were politics, but that's not unexpected in the first book of a series. Overall, I really enjoyed this book and I will definitely be reading more in the series.
Other reviews:
Patricia Briggs: Moon Called – Book Review
strange and random happenstance: Book Review – Patricia Briggs Moon Called
Book Review: Moon Called « Obsessed With Books
Book Review – Moon Called (Mercy Thompson, book 1) by Patricia Briggs
REVIEW – Moon Called by Patricia Briggs — Babbling Book Reviews
Page count: 336 ('11 total: 10,665) | Word count: 97,103 ('11 total: 4,069,953)
2010: Strawberry Shortcake Murder (Joanne Fluke)
2009: Tribute (Nora Roberts)
2008: Curse of the Spellmans (Lisa Lutz)
2007: The Fiery Cross (Diana Gabaldon)
2006: The Footprints of God (Greg Iles)
2005: Into Thin Air (Jon Krakauer)
Used in these Challenges: Countdown Challenge 2011; 2011 E-book Challenge; New Author Challenge 2011; Outdo Yourself Reading Challenge 2011;