2011: #45 – Trapped (Michael Northrop)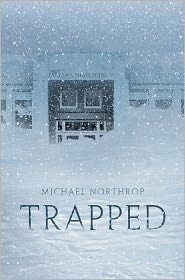 Book #45 was Trapped by Michael Northrop. The back of the book reads:
The day the blizzard started, no one knew that it was going to keep snowing for a week. That for those in its path, it would become not just a matter of keeping warm, but of staying alive….

Scotty and his friends Pete and Jason are among the last seven kids at their high school waiting to get picked up that day, and they soon realize that no one is coming for them. Still, it doesn't seem so bad to spend the night at school, especially when distractingly hot Krista and Julie are sleeping just down the hall. But then the power goes out, then the heat. The pipes freeze, and the roof shudders. As the days add up, the snow piles higher, and the empty halls grow colder and darker, the mounting pressure forces a devastating decision….
This book is based on an outlandish premise: a days-long blizzard literally buries a town, dumping dozens of feet of snow and trapping everyone where they happened to be when it started. In this case, it traps seven kids and a teacher in the high school. Cell phones and land lines aren't working, vehicles (not even plows) can get through, and it isn't long before the power is also gone.
What this book really comes down to one question: What would you do to survive? Because these are teens (and young teens at that), different factors come in to play than those that would if they were adults. Will the usual cliques remain? Who, if anyone, is in charge? What are the consequences of breaking the rules? How do they eat, stay warm, and even use the bathroom? These kids have to use every last bit of their ingenuity to survive; not all of them do.
Despite the fact that I struggled with the enormity of the snowstorm (even growing up in Maine, I couldn't picture that much snow), I enjoyed this story. My only problem with it was the ending. We get a resolution to the immediate problem, but there is no aftermath. I wanted to know what the ramifications of the storm were outside of the school.
This is a good book for those days when it snows and you wonder if it will ever stop.
This book was a review copy.
Other reviews:
Book Review: Trapped by Michael Northrop | leighlights
Trapped by Michael Northrop:Book Review – Rayment's Readings Rants and Ramblings
Candace's Book Blog: Book Review: Trapped by Michael Northrop
Slightly Bookish: Book Review (ARC): Trapped by Michael Northrop
Review: Trapped by Michael Northrop | Chick Loves Lit
Page count: 240 ('11 total: 11,673) | Approximate word count: 48,000 ('11 total: 4,329,203)
2010: Shelter Mountain (Robyn Carr)
2009: First Family (David Baldacci)
2008: Grave Surprise (Charlaine Harris)
2007: Through Violet Eyes (Stephen Woodworth)
2006: Eveless Eden (Marianne Wiggins)
2005: King's Oak (Anne Rivers Siddons)
Used in these Challenges: ARC Reading Challenge 2011; New Author Challenge 2011; Outdo Yourself Reading Challenge 2011;