2011: #44 – Fallen (Karin Slaughter)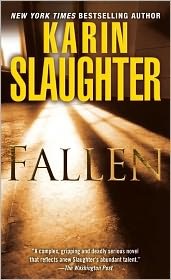 Book #44 was Fallen by Karin Slaughter, the third book in her Georgia series. The back of the book reads:
There's no police training stronger than a cop's instinct. Faith Mitchell's mother isn't answering her phone. Her front door is open. There's a bloodstain above the knob. Her infant daughter is hidden in a shed behind the house. All that the Georgia Bureau of Investigations taught Faith Mitchell goes out the window when she charges into her mother's house, gun drawn. She sees a man dead in the laundry room. She sees a hostage situation in the bedroom. What she doesn't see is her mother. . . .

"You know what we're here for. Hand it over, and we'll let her go."

When the hostage situation turns deadly, Faith is left with too many questions, not enough answers. To find her mother, she'll need the help of her partner, Will Trent, and they'll both need the help of trauma doctor Sara Linton. But Faith isn't just a cop anymore—she's a witness. She's also a suspect.

The thin blue line hides police corruption, bribery, even murder. Faith will have to go up against the people she respects the most in order to find her mother and bring the truth to light—or bury it forever.

Karin Slaughter's most exhilarating novel yet is a thrilling journey through the heart and soul, where the personal and the criminal collide, and conflicted loyalties threaten to destroy reputations and ruin lives. It is the work of a master of the thriller at the top of her game, and a whirlwind of unrelenting suspense.
This book is the third of Karin Slaughter's to combine her Grant County and Atlanta series characters. These combined books are my only exposure so far to Sara Linton, so I am not as familiar with her history as I am with Will, Faith, and Amanda.
This book focuses mainly on Faith, whose mother has been tortured and kidnapped for reasons she is not sure of. Both a witness and a victim, Faith is unable to officially participate in the investigation and it's driving her crazy… almost literally, as she can't seem to get her diabetes under control.
In the meantime, Will (with the help of Sara) and Amanda are trying to get to the bottom of things. They know that it all has to do with the corruption case that ended Faith's mother's career, but the whos and whys are elusive.
I am a big fan of Will Trent, and I've enjoyed his growth through the books he's been in. It's nice to see him grow more assertive and independent and sure of himself as he realizes a woman can like him without also hating him. I'm looking forward to future books with Will and Sara; will his misery be like Samson's hair? Is Sara his Delilah?
This book was a review copy.
Other reviews:
Audio Book Review: Fallen by Karin Slaughter – Teresa's Reading Corner
Review: FALLEN by Karin Slaughter | Girls in the Stacks.com
Jen's Book Thoughts: FALLEN – Karin Slaughter
Does This Review Make Me Look Blurby? Review of "Fallen" by Karin Slaughter
Booking Mama: Guest Review: Fallen
Page count: 400 ('11 total: 11,433) | Approximate word count: 120,000 ('11 total: 4,281,203)
2010: Chasing the Dime (Michael Connelly)
2009: Fractured (Karin Slaughter)
2008: Death by Rodrigo (Ron Liebman)
2007: Cards on the Table (Agatha Christie)
2006: Turning Angel (Greg Iles)
2005: Kiss Me While I Sleep (Linda Howard)
Used in these Challenges: Countdown Challenge 2011; ARC Reading Challenge 2011; Outdo Yourself Reading Challenge 2011;