2021: #28 – Six of Crows (Leigh Bardugo)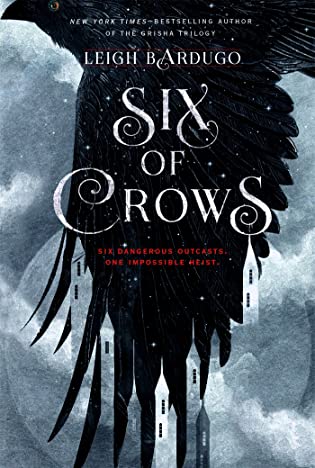 Six of Crows
by
Leigh Bardugo
Series:
Six of Crows #01
Published by
Henry Holt Company
on September 29, 2015
Genres:
young adult
,
y/a fantasy
Pages:
465


Also by this author:
Shadow and Bone
,
Siege and Storm
,
Ruin and Rising
,
Ninth House
Ketterdam: a bustling hub of international trade where anything can be had for the right price—and no one knows that better than criminal prodigy Kaz Brekker. Kaz is offered a chance at a deadly heist that could make him rich beyond his wildest dreams. But he can't pull it off alone. . . .

A convict with a thirst for revenge
A sharpshooter who can't walk away from a wager
A runaway with a privileged past
A spy known as the Wraith
A Heartrender using her magic to survive the slums
A thief with a gift for unlikely escapes

Kaz's crew is the only thing that might stand between the world and destruction—if they don't kill each other first.
I went into this book somewhat blind, expecting another fantasy-quest type story like we had in Shadow & Bone. So I was very pleasantly surprised to find myself reading a heist novel. Who doesn't love a heist? I do think you should read the Shadow & Bone trilogy before starting this one, to give you a better understanding of the world and the Grisha.
Kaz Brekker is the young leader of the Dregs, one of the more powerful gangs in the Barrel section of Ketterdam. He normally is focused on taking money from gamblers in his Crow Club casino and plotting revenge against fellow gang leader Pekka Rollins, but is offered a life-changing job by a local businessman. All he has to do is to break into the impenetrable prison of the Ice Court and kidnap a scientist capable of making a drug that supercharges Grisha.
Kaz can't do this alone, so he assembles a team: Inej, the acrobatic spy who moves like a shadow; Jesper, the sharpshooter; Nina, a Grisha capable of manipulating the human body; Wylan, the bombmaker; and Matthias, an imprisoned Fjerdan soldier who has been inside the Ice Court and knows how it works. Together they must travel to Fjerda, in chase of a prize that could change all of their lives forever.
These characters were so colorful and fun, and again, who doesn't love a heist? Kaz is not the most cuddly of characters, but he is smart and knows what he's doing, most of the time. I look forward to continuing the series and seeing where the story goes!
Other reviews:
"The plot of Six of Crows is solid and strong, with many twists and intense moments. Not only are the characters kept in the dark but so are the readers, so I was constantly left gobsmacked by Kaz's smartness." — Nishable Blog
"All the elements of a great story just come together in this book. I'm finding hard to find things to say because it's just so good. Six of Crows is dark but also at times humorous and I totally fell in love with it." — The Last Book on the Left
"Bottom line: Can anyone give me Leigh Bardugo's mailing address? Not for anything creepy, I just want to blow a kiss into an envelope and ship it to her." — Emma Reads