2011: #50 – Kushiel's Dart (Jacqueline Carey)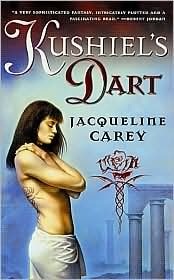 Book #50 was Kushiel's Dart, the first book in Jacqueline Carey's Kushiel's Legacy series. The back of the book reads:
The land of Terre d'Ange is a place of unsurpassed beauty and grace. It is said that angels found the land and saw it was good…and the ensuing race that rose from the seed of angels and men live by one simple rule: Love as thou wilt.

Phèdre nó Delaunay is a young woman who was born with a scarlet mote in her left eye. Sold into indentured servitude as a child, her bond is purchased by Anafiel Delaunay, a nobleman with very a special mission…and the first one to recognize who and what she is: one pricked by Kushiel's Dart, chosen to forever experience pain and pleasure as one.

Phèdre is trained equally in the courtly arts and the talents of the bedchamber, but, above all, the ability to observe, remember, and analyze. Almost as talented a spy as she is courtesan, Phèdre stumbles upon a plot that threatens the very foundations of her homeland. Treachery sets her on her path; love and honor goad her further. And in the doing, it will take her to the edge of despair…and beyond. Hateful friend, loving enemy, beloved assassin; they can all wear the same glittering mask in this world, and Phèdre will get but one chance to save all that she holds dear.

Set in a world of cunning poets, deadly courtiers, heroic traitors, and a truly Machiavellian villainess, this is a novel of grandeur, luxuriance, sacrifice, betrayal, and deeply laid conspiracies. Not since Dune has there been an epic on the scale of Kushiel's Dart-a massive tale about the violent death of an old age, and the birth of a new.
Jacqueline Carey's Kushiel's Legacy series is, so far, a trilogy of trilogies, so to speak. A couple of summers ago, I read the first book in the latest trilogy, Naamah's Kiss, and really enjoyed it. This first book in the entire series showed me that I have a lot to look forward to.
Phèdre nó Delaunay's world is one that is both familiar and not. Carey has given us a reimagined Earth with elements that are familiar. There is a lot of known religion and mythology in her fictional religion and mythology. The countries are almost recognizable as Scandinavia and the Middle East and parts of Europe. The problem is timeless – who will rule Terre d'Ange?
(As a side note, when I read Naamah's Kiss, I compared Terre d'Ange to France, but after reading this book, I thought it was more like England. Anyone else have any opinions?)
Phèdre is not your typical fantasy heroine. She is a courtesan, and an unusual one at that – her specialty is pain, and the scarlet mote in her eye makes her unique in her time. The first third or so of the book is really about her and her journey from a young child sold into indentured servitude to a young woman who has earned her freedom. Once her real quest begins (along with her companion, the religious warrior), she finds out just how much she has learned along the way, and that she'll need every last tool in her arsenal in order to survive.
Other reviews:
SF REVIEWS.NET: Kushiel's Dart / Jacqueline Carey
Kushiel's Dart – Book Review « The Fictioner
Carole Rae's Random Ramblings: Book Review: Kushiel's Dart
The Bibliophilic Book Blog: Book Review: Kushiel's Dart by Jacqueline Carey.
Kushiel's Dart
Page count: 928 ('11 total: 13,625) | Word count: 276,706 ('11 total: 5,008,620)
2010: Voices (Arnaldur Indridason)
2009: Tell No One (Harlan Coben)
2008: Hollywood Crows (Joseph Wambaugh)
2007: Alone (Lisa Gardner)
2006: The Hostile Hospital (Lemony Snicket)
2005: Two for the Dough (Janet Evanovich)
Used in these Challenges: Outdo Yourself Reading Challenge 2011;