2011: #51 – Killing My Boss (Colin F. Barnes & Mark Yoshimoto Nemcoff)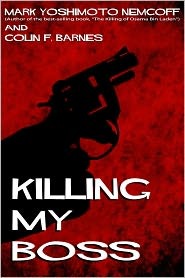 Book #51 was Killing My Boss, an anthology of short stories by Colin F. Barnes and Mark Yoshimoto Nemcoff. The back of the book reads:
DELIGHTFULLY TWISTED. LIKE HITCHCOCK MEETS WES CRAVEN.

You hate your horrible boss. You're not alone. And for good reason. Your boss is a complete jerk and everybody knows it.

If you have ever imagined what it would be like to send your horrible boss to his or her early demise, KILLING MY BOSS is the "Youdunit" book you've been waiting for.

From the devious minds of bestselling and award-winning author MARK YOSHIMOTO NEMCOFF, ("The Killing of Osama Bin Laden", "Where's My F*cking Latte?", "Number One with a Bullet") and talented U.K. writer COLIN F. BARNES, comes KILLING MY BOSS. Featuring six delicious tales of revenge taken on some of the worst bosses you could imagine, "Killing My Boss" is a thrilling symphony of murder and mayhem that will keep you turning pages until each jaw-dropping conclusion.

KILLING MY BOSS is a literary six-shooter that will let you feel the satisfaction of murdering your boss… without ever having to worry about going to jail for it!

This book also makes a wonderful gift. Send it to those you know suffer under the tyranny of horrible bosses everywhere… or even send one to the boss you hate!
This collection of short stories was deliciously deviant, with a level of violence that reminded me of J.A. Konrath writing as Jack Kilborn. It's a pull-no-punches, brain-splattering level of violence that may seem extreme to some, but that I think fits perfectly with the fantastical nature of the stories. You won't agree with each protagonist's reason for the violence, but I think that makes it more interesting. I was especially intrigued by the final story, Nemcoff's Nemesis, which has appeared before in an audio anthology about a terrorist attack on the U.S. It's a story that made me think after I was finished, and I actually went back and re-read a few sections to make sure I understood what happened.
This collection is perfect for anyone who has just wanted to go home and scream after a long day at work. Just don't let your boss catch you reading it at your desk.
Disclaimer: This book was a review copy. I am associated with Colin F. Barnes through a writer's forum.
Page count: 133 ('11 total: 13,758) | Approximate word count: 33,250 ('11 total: 5,041,870)
2010: Back to the Bedroom (Janet Evanovich)
2009: The BFG (Roald Dahl)
2008: Heartbreaker (Julie Garwood)
2007: Darkly Dreaming Dexter (Jeff Lindsay)
2006: The Carnivorous Carnival (Lemony Snicket)
2005: Three to Get Deadly (Janet Evanovich)
Used in these Challenges: 2011 E-book Reading Challenge; ARC Reading Challenge 2011; New Author Challenge 2011; Outdo Yourself Reading Challenge 2011;