2011: #55 – Before I Go To Sleep (S.J. Watson)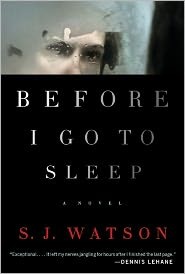 Book #55 was Before I Go To Sleep by S.J. Watson. The back of the book reads:
"As I sleep, my mind will erase everything I did today. I will wake up tomorrow as I did this morning. Thinking I'm still a child. Thinking I have a whole lifetime of choice ahead of me. . . ."

Memories define us.

So what if you lost yours every time you went to sleep?

Your name, your identity, your past, even the people you love—all forgotten overnight.

And the one person you trust may be telling you only half the story.

Welcome to Christine's life.
Before I Go To Sleep is easily one of the best books of the summer, and I don't throw around the term "best" lightly.
When Christine wakes the first morning we meet her, we are just as confused as she is. Who is she? Who is she in bed with? Why is she older than she thinks she is? How is it possible to live without knowing these things? By the time I got to the beginning of her journal, I was hooked for sure. I found this severe case of amnesia fascinating.
There's something compelling about a book with an unreliable narrator. Not only are we not sure what we can believe, but Christine isn't sure if even she can believe her own writings. We bounce around her head with her as she vacillates between knowing and not knowing, trusting and not trusting. We applaud each step she takes forward, and cringe with each step she takes backwards.
And the ending… The ending!! It's been a long time since I got to the end of a book and said "Where's the rest?" But not in a bad way. Without giving too much away, I would love to know what happens next, but I think the author made the right choice in ending it the way she did. The twist was not at all what I expected; the bait-and-switch was brilliant.
I'll be looking forward to what's next to come from S.J. Watson.
This book was a review copy.
Other reviews:
S. Krishna's Books: Book Review: Before I Go To Sleep – S.J. Watson
Review: "Before I Go to Sleep" by S. J. Watson [2011] | Mad Bibliophile
Before I Go To Sleep, by S.J. Watson – Book Review | Linus's Blanket
Lesa's Book Critiques: Before I Go to Sleep by S.J. Watson
Review : Before I Go to Sleep « The Infinite Shelf – A Book Blog
Page count: 368 ('11 total: 15,054) | Approximate word count: 92,000 ('11 total: 5,365,870)
2010: Killing Orders (Sara Paretsky)
2009: Mating Rituals of the North American WASP (Lauren Lipton)
2008: Beautiful Lies (Lisa Unger)
2007: Midnight in Death (J.D. Robb)
2006: Proof (Dick Francis)
2005: Seven Up (Janet Evanovich)
Used in these Challenges: ARC Reading Challenge 2011; Outdo Yourself Reading Challenge 2011;