2017: #7 – Big Little Lies (Liane Moriarty)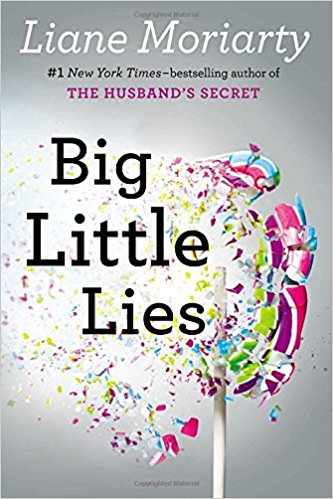 Big Little Lies
by
Liane Moriarty
Published by
Berkley
on August 11th 2015
Genres:
psychological thriller
Pages:
512


Sometimes it's the little lies that turn out to be the most lethal. . . . A murder… . . . a tragic accident… . . . or just parents behaving badly? What's indisputable is that someone is dead. But who did what?

Big Little Lies follows three women, each at a crossroads: Madeline is a force to be reckoned with. She's funny and biting, passionate, she remembers everything and forgives no one. Her ex-husband and his yogi new wife have moved into her beloved beachside community, and their daughter is in the same kindergarten class as Madeline's youngest (how is this possible?). And to top it all off, Madeline's teenage daughter seems to be choosing Madeline's ex-husband over her. (How. Is. This. Possible?).

Celeste is the kind of beautiful woman who makes the world stop and stare. While she may seem a bit flustered at times, who wouldn't be, with those rambunctious twin boys? Now that the boys are starting school, Celeste and her husband look set to become the king and queen of the school parent body. But royalty often comes at a price, and Celeste is grappling with how much more she is willing to pay.

New to town, single mom Jane is so young that another mother mistakes her for the nanny. Jane is sad beyond her years and harbors secret doubts about her son. But why? While Madeline and Celeste soon take Jane under their wing, none of them realizes how the arrival of Jane and her inscrutable little boy will affect them all.

Big Little Lies is a brilliant take on ex-husbands and second wives, mothers and daughters, schoolyard scandal, and the dangerous little lies we tell ourselves just to survive.
I completely missed the boat on this book the first time around. It was one of those that flitted around the periphery of my reading world, but nothing drew me to pick it up and give it a try.
And then I watched the first episode of the HBO show. I don't get HBO, so it was going to be a long wait before I could see the rest. But I needed to know what happened! So I immediately picked up the book.
Big Little Lies follows three women. Madeline is the social director, the glue that keeps the group together. But behind her bubbly facade, she harbors deep insecurities about her ex-husband's new wife and their relationship with their daughter.  Celeste is the beautiful and collected mother of twin boys with an uber-successful husband and gorgeous home, if you don't notice the dark cloud that hangs over it. Jane is young, insecure, and new in town, a mystery to nearly everyone.
All we know at the beginning is, someone is dead. Is it one of these women? Or did one of them do it?
I thought this was a great book. I enjoyed the gossipy feel of the police interviews. I enjoyed how the lives of the three women were woven together, yet some of the darkest secrets remained hidden. They all have very real problems, from Madeline's struggles with her daughter, to Celeste's relationship problems, to Jane's worries about her son and whether he is troubled. And compounding the issues is the town where they live, where your position is determined by the size of your house and how stylish you dress when you drop your kids at school, and everyone knows everything.
Moriarty does a great job of weaving the story, dropping hints at the same time as she shows how things can be misunderstood and blown out of proportion. By the time you get to the climax, you feel like you should have known it all along, even if you weren't quite sure. The ending was not expected, yet it made perfect sense.
I recommend this book even if you've seen the TV show. As you would expect, it's more fleshed out and I feel you get more understanding of the characters. I understood the ending better than I would have if I just watched the show. But I do have to say, the casting was perfect.
Other reviews:
"The author did a great job of creating three very distinct characters who sometimes fall into their tropes (the assertive one, the shy one, and the beautiful one) but she does it so expertly that it creates intimate connections with all the women very quickly and easily." – bitchyfantasy
"This was a fun book to read and one that captured my attention and kept me engaged throughout, so I definitely recommend it!" – Under the Covers Book Blog
"Further, Moriarty has done an amazing job writing real women with real struggles.  I found myself identifying (good and bad) with almost every character, and even better, enjoyed that the men in the book were actual beings." – Reading for Sanity