2011: #59 – The Pale Blue Eye (Louis Bayard)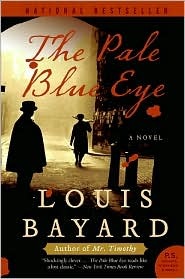 Book #59 was The Pale Blue Eye by Louis Bayard. The back of the book reads:
At West Point Academy in 1830, the calm of an October evening is shattered by the discovery of a young cadet's body swinging from a rope. The next morning, an even greater horror comes to light. Someone has removed the dead man's heart. Augustus Landor—who acquired some renown in his years as a New York City police detective—is called in to discreetly investigate. It's a baffling case Landor must pursue in secret, for the scandal could do irreparable damage to the fledgling institution. But he finds help from an unexpected ally—a moody, young cadet with a penchant for drink, two volumes of poetry to his name, and a murky past that changes from telling to telling. The strange and haunted Southern poet for whom Landor develops a fatherly affection, is named Edgar Allan Poe.
One surefire way to make me interested in historical fiction is to throw someone who actually existed into the mix. I'm not sure why this is, but I'm strangely compelled by fictional depictions of real people. In this case, the subject is Edgar Allen Poe.
I'm sure there are many liberties taken with Poe's character, but nevertheless he is the star of this show. The main character, Gus Landor, has been brought to West Point in order to find out who has removed the heart of a soldier who was found hanged, either by his own hand or someone else's. Some in the government are looking for any reason to shut down West Point, and the school is desperate for help. Landor asks for one thing – a cadet to be his eyes and ears in the ranks.
Most of the book is seen through Landor's eyes, as he is the primary narrator, but the brightest spots come from Poe's point of view. The author does a good job of changing up the voice in these sections.
The mystery and its resolution are a bit strange, but even stranger is the story's twist. I'm still not quite sure how I feel about it. It makes sense, when you look back, but it seems a little forced. And I'm still unclear about how Poe figures it all out.
Regardless, this is a book I enjoyed. Bayard is earning his spot on my historical fiction favorites list.
Other reviews:
Jen's Book Thoughts: THE PALE BLUE EYE – Louis Bayard
The Pale Blue Eye « Bloody Hell, It's a Book Barrage!
In Which Our Hero: BOOKS: The Pale Blue Eye, Louis Bayard (2006)
Audiobook length: 15 hr 29 min | Word count: 137,359 ('11 total: 5,802,029)
2010: Cleanskin (Val McDermid)
2009: The Secret Life of Prince Charming (Deb Caletti)
2008: Driving Force (Dick Francis)
2007: Strange Candy (Laurell K. Hamilton)
2006: The Forgotten (Faye Kellerman)
2005: Eleven on Top (Janet Evanovich)
Used in these Challenges: 2011 Audiobook Challenge; Outdo Yourself Reading Challenge 2011;