2018: #29 – Gone to Dust (Matt Goldman)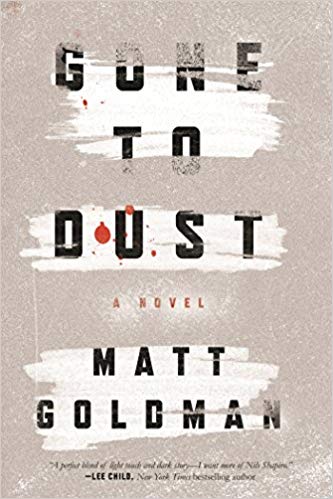 Gone to Dust
by
Matt Goldman
Series:
Nils Shapiro #01
Published by
Forge
on August 15, 2017
Genres:
private investigator
Pages:
304


A brutal crime. The ultimate cover-up. How do you solve a murder with no usable evidence?

Private detective Nils Shapiro is focused on forgetting his ex-wife and keeping warm during another Minneapolis winter when a former colleague, neighboring Edina Police Detective Anders Ellegaard, calls with the impossible.

Suburban divorcee Maggie Somerville was found murdered in her bedroom, her body covered with the dust from hundreds of emptied vacuum cleaner bags, all potential DNA evidence obscured by the calculating killer.

Digging into Maggie's cell phone records, Nils finds that the most frequently called number belongs to a mysterious young woman whose true identity could shatter the Somerville family--but could she be guilty of murder?

After the FBI demands that Nils drop the case, Nils and Ellegaard are forced to take their investigation underground, where the case grows as murky as the contents of the vacuum cleaner bags. Is this a strange case of domestic violence or something with far reaching, sinister implications?
I finished up my 2018 reading with another thriller/mystery, this one by debut author Matt Goldman, and my second of the year set in the Minneapolis area. Nils Shapiro is a private investigator with friends on the police force who is occasionally called in to consult. And this one has everyone stumped — a woman is found dead in her bed, but the entire room (and most of the house) is covered with dust. Why, and how?
I found Nils fun to read. He's still hung up on his ex-wife, and maybe a little quick to get involved with people tangled up in his case. The mystery was really good too — I really didn't guess what had happened until it was nearly revealed to me, yet it made perfect since once I knew. I enjoy that. I'll definitely read more books in this series.
Other reviews:
"Much of the puzzle solving as well as the writing style worked for me and I really did want to find out 'whodunit', however, for much of the book after the initial few chapters I found my mind wandering." — It's Book Talk
"The way that Nils goes about things is just something that I enjoy deeply. It seems to match up with how I want a murder investigation to go.  He, of course, runs into problems (bigger ones than I was expecting) but I like how he gets through them by basically ticking off all the facts that he knows to try and find another missing piece." — Brian's Book Blog