2011: #65 – No Holly for Christmas (Julie N. Ford)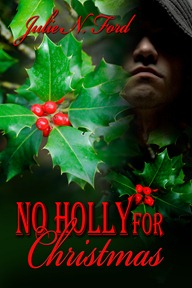 Book #65 was No Holly for Christmas by Julie N. Ford. The back of the book reads:
As Brian McAlister struggles to move past being jilted not once, but twice by the only woman he's ever loved, he's all but given up on relationships. Then, on special assignment for the DA's office, he crosses paths with ex-socialite turned social worker, Holly Cavanaugh Winter—and romance blossoms.

Widowed, practically penniless, and reduced to shopping at WalMart, Holly is dreading the approaching Holiday Season. However, her angst isn't due to her husband's untimely death the previous December 25th, but because of a secret that could reveal itself unless she can find a way to avoid the coming Christmas.

Love at first sight quickly turns frigid for Brian and Holly when Holly gets pulled into a manhunt for an accused murderer who now has his sights set on her. His case unraveling, Brian finds himself tasked with keeping Holly and her two daughters safe while bringing an assassin and the powerful man who hired him to justice.

A heart-warming story of suspense, healing, giving and receiving, No Holly for Christmas is the perfect addition to everyone's holiday reading list.
No Holly for Christmas is the follow-up to Ford's The Woman He Married, which I reviewed here in April. Brian, who plays the role of the spoiler in the first book, is our leading man in this one. Despite being a well-known defense attorney, he's been tapped for a special assignment in the DA's office after his father's illness. The last thing he expects is to find himself attracted to his partner's social worker sister.
Holly is having a rough go at it. Her husband's death has meant that she has to go to work and move her two daughters away from the privileged life they enjoyed to a much more solidly middle-class existence. Not only is she not expecting to be attracted to her sister's partner, she's not sure she's ready to find a love again.
Throw in an escaped murderer and a conspiracy, and you have the perfect recipe for a roller coaster romance. A recipe Holly would love to serve to you on her great-grandmother's china.
The set-up in this romance is a little more traditional than the last one, but that's one of the reasons why we read romance and its many sub-genres — we know what to expect. Holly is a little rough around the edges at first, but it doesn't take long for her to warm up. Holly's children are nice additions to the story, as well as Brian's family. I can see real growth in the author, and I look forward to seeing what she writes next!
This book was a review copy.
Page count: 382 ('11 total: 18,332) | Approximate word count: 110,000 ('11 total: 6,456,557)
2010: See Jane Write (Sarah Mlynowski & Farrin Jacobs)
2009: Kitty and the Midnight Hour (Carrie Vaughn)
2008: The Secret History of the Pink Carnation (Lauren Willig)
2007: Blood Sport (Dick Francis)
2006: Danse Macabre (Laurell K. Hamilton)
2005: Silent Partner (Jonathan Kellerman)