2011: #64 – Dead Man's Walk (Larry McMurtry)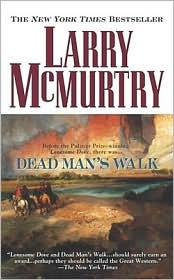 Book #64 was Dead Man's Walk, the first book (chronologically) in Larry McMurtry's Lonesome Dove series. The back of the book reads:
Dead Man's Walk is the first, extraordinary book in the epic Lonesome Dove tetralogy, in which Larry McMurtry breathed new life into the vanished American West and created two of the most memorable heroes in contemporary fiction: Augustus McCrae and Woodrow Call.

As young Texas Rangers, Gus and Call have much to learn about survival in a land fraught with perils: not only the blazing heat and raging tornadoes, roiling rivers and merciless Indians but also the deadly whims of soldiers. On their first expeditions–led by incompetent officers and accompanied by the robust, dauntless whore known as the Great Western–they will face death at the hands of the cunning Comanche war chief Buffalo Hump and the silent Apache Gomez. They will be astonished by the Mexican army. And Gus will meet the love of his life.
Matilda Jane Roberts was naked as the air. Known throughout south Texas as the Great Western, she came walking up from the muddy Rio Grande holding a big snapping turtle by the tail.
What great imagery to start off a novel with! After being less than thrilled with The Sisters Brothers, I was hungry for a more classic (in style and content, not age) western. Lonesome Dove has been on my TBR list for a while, so I decided to start off with the chronological first book in the series.
Gus McCrae and Woodrow Call fancy themselves rangers in 1840s Texas. Unfortunately for them, it's a very dangerous time in that part of the country. Comanche Indians roam the land, and the troops are not at all equipped to handle their speed, stealth, and cunning. One in particular, Buffalo Hump, seems to have his eye on Gus and Call, and would like nothing more than to add their scalps to his belt.
The Rangers' expeditions, particularly the one to Santa Fe where they plan to defeat the Mexicans, are (obviously to the reader) inept, ill-equipped, and led by men who have no idea what they are walking (usually literally) in to. Things go from bad to worse, and you start to wonder how the heck they are going to get out of the desert and back to safety.
McMurtry's characters are colorful and varied, and you feel their fright, misery, and hopelessness. This book is generally believed to be not as good as Lonesome Dove, and if that's the case, I know I have something really great to look forward to.
Other reviews:
Book Chase: Dead Man's Walk
The Amazing Adulthood of Alexis: Review: Dead Man's Walk by Larry McMurtry
Page count: 464 ('11 total: 17,950) | Word count: 160,365 ('11 total: 6,346,557)
2010: Dead in the Family (Charlaine Harris)
2009: High Noon (Nora Roberts)
2008: A Living Nightmare (Darren Shan)
2007: The End (Lemony Snicket)
2006: Narcissus in Chains (Laurell K. Hamilton)
2005: Nora, Nora (Anne Rivers Siddons)