2011: #67 – Feed (Mira Grant)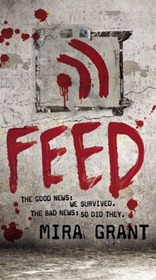 Book #67 is Feed (paperback, Kindle, audio), the first book in the Newsflesh trilogy by Mira Grant. The back of the book reads:
The year was 2014. We had cured cancer. We had beat the common cold. But in doing so we created something new, something terrible that no one could stop. The infection spread, virus blocks taking over bodies and minds with one, unstoppable command: FEED.

NOW, twenty years after the Rising, Georgia and Shaun Mason are on the trail of the biggest story of their lives-the dark conspiracy behind the infected. The truth will out, even if it kills them.
I listened to this way back around Halloween. Between the zombies and the presidential campaign, it was timely in more ways than one.  There was a lot of talk about this book when it was released, and my expectations were met and then some.  As far as zombie stories go, it's not particularly scary, but there are definitely a lot of tense moments. Georgia and Shaun are very likeable main characters, even if they are  headstrong at times. You grow to respect them, not only as people, but as businesspeople. And she manages to surround them with characters that are interesting and colorful without being stereotypical (with the exception of some of the politicians).
What really grabbed me about this novel was the detailed world Grant has created. I found everything, from the way the outbreak began to the way it spread to the  deterioration of journalism and rise of blogging, to be believable, if not plausible.  The only thing I never really grasped was why Georgia and Shaun's parents were famous, but it's very possible I just wasn't paying close enough attention to the audio book when that was explained. I raked a lot of leaves during this book.
Plot wise, there was a lot to keep your attention. Besides the presidential campaign and the conspiracy/sabotage, there is the constant concern about the virus and infection. There also are a number of plot-twists that I found rather unexpected. I have to respect an author who isn't afraid to "kill her darlings", quite literally. I was really surprised at the biggest twist, because it was a huge risk, as far as story construction goes.
That's not to say the story was perfect. The repetitious descriptions of the various testing techniques and scenarios grew quite tiresome, and were something that only needed explaining/describing once, unless it was necessary to move the story forward in some way.
I thought this was a nice change of pace in the zombie oeuvre, because it focuses more on the living than on the gore of the dead. I'll definitely be continuing the series, because I have no idea what could be coming next.
Audiobook length: 15 hrs 10 min | Approximate word count: 152,000 ('11 total: 6,686,307)
2010: The Anniversary Man (R.J. Ellory)
2009: The Accidental Human (Dakota Cassidy)
2008: Neon Rain (James Lee Burke)
2007: Portrait of a Killer (Patricia Cornwell)
2006: The Grim Grotto (Lemony Snicket)
2005: Hell at the Breech (Tom Franklin)